Publisher's Description
10-Strike Bandwidth Monitor allows you to monitor the network bandwidth and the traffic usage on network interfaces of various devices (Windows and Linux computers, managed switches, etc.). The application collects data on the inbound and outbound traffic utilized by your hosts and draws the bandwidth diagrams dynamically in the real time. If the critical limits of utilized traffic volume are reached, the application will generate an alert and notify you about the event. It can send SMS or e-mail, or even reboot a computer or restart a service.
The application offers you a lot of possibilities of generating reports and viewing statistics on the traffic usage. The bandwidth monitoring can be performed over the SNMP protocol, WMI, and remote Agents installed on networked PCs. The built-in sniffer in the Agent can gather addresses your hosts are communicating with. You can analyze remote hosts and services your users use the most of time.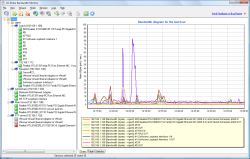 View Full-size
Latest Reviews
Be the first to write a review!
Someone reviewed v on Mar 19, 2023
Pros:
Cons:
Bottom Line:
Someone reviewed v on Jul 5, 2022
Pros: 555
Cons: 555
Bottom Line: 555