File Details

File Size
5.0 MB
License
Commercial Demo, $59.00
Operating System
Windows 7/Vista/XP
Date Added
June 7, 2014
Total Downloads
46,840
Publisher
LG Software Innovations
Homepage
1Click DVD Copy
Publisher's Description
1Click DVD Copy allows you to make high quality backup copies of DVD movies. It can fit your DVD movie on to just one blank disc so you don't have to split the DVD movie across two discs. It has a very fast transcoding engine and excellent video quality.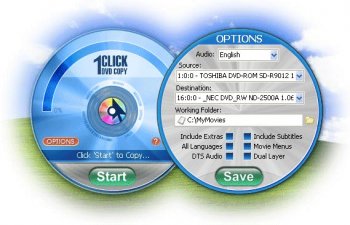 View Full-size
Latest Reviews
davidabramson reviewed v5.4.4.8 on Jan 7, 2010
DO NOT BUY if you run Vista or Windows 7 - 64 BIT. Doesn't work. Tech support would not refund my puchase! 123 Copy DVD worked just fine.
serdor123 reviewed v5.4.4.8 on Jul 29, 2008
The most easy dvd copy software I have seen before. But really a little overpriced. So you can get 30% discount (save $17.70) here:
http://www.softprice.net/1click_dvd_copy.shtml
Crustyomo reviewed v5.4.4.8 on Jul 8, 2008
Software would not load on my computer due to problems with windows. When I tried to load it on my new computer, they wanted me to pay another $80 because they said I already loaded it on another computer. After much arguing, they allowed me to run it. It would not copy any dvds with out running a 3rd party decrypter, so I downloaded the recommended decrypter and it was a keylogging virus program.

Any dvd I ever burned with this software didn't work very well. What a waste of $80! If anyone want's my licence key, I'll happily give it away because it's junk!
marrix reviewed v5.3.1.9 on Nov 23, 2007
I gotta say, started using this way back when. I think the version then was about 2.4.1, and yep it was cracked. Liked it so much I purchased it (as I do), I have both versions legit for about 3 years, and quite frankly I'm extremely annoyed/dissapointed at having to pay AUD20+ for the pro update, and AUD17+ annually for the standard update.
Have registered my disappointment with their sales people, however their response is as it should be "this is the best", pay for it or suffer.
Conversely, at the same time I purchased DVDFab, which at that time was junk, however this simple purhase back then has provided lifetime updates to what is now an extraordinary app.
xsnred reviewed v5.3.1.9 on Nov 22, 2007
I have used this product for about 2 years now. I have only not been able to back up maybe 2 movies. On the other hand, which people will hate me for, I will not pay 60 bucs for this software as it is not worth it so I use a warez version. If this software was priced at around 10, 15 dollars, I would purchase it. Good product, easy to use, don't need other features the other over blown back up software have.
kD371kNf reviewed v5.3.1.9 on Nov 21, 2007
Horribly overpriced. Only 1 year of updates. (CloneDVD2 = lifetime updates)
Works well and fast.
Needs Decrypter like DVD43 to work.
DVD Cloner is a better value.
I like Elby CloneDVD2.
Check out more here:
http://dvd-copy-software-review.toptenreviews.com/
floc reviewed v5.1.1.9 on Nov 10, 2007
I would advise anybody thinking of purchasing this product to consider the following:-
Just over a year ago(October 06)I went ahead and made my purchase. I have been very happy with it until recently when it refused to work - unless I was prepared to pay an additional $19 for an update. Yet according to the advertising blurb this is purely optional, and at this stage I felt it wasn't required.
LG Software Innovations response?

'If the version you were currently trying to unlock was already registered,'
you would not be writing to us asking for assistance with registration.

In any case, the last version you activated, according to our database, it
version 5.0.0.13. Unless you renew your license, you will not be able to
activate a later version. '
Jimmy

i.e apparently I'm a con man. Charming!
garvi reviewed v5.1.1.9 on Apr 6, 2007
It's great! Easy to use and improved since v4. I got mine 10% off at Diesel Soft: http://www.dieselsoft.com/detail.php?id=203
BIL reviewed v4.2.9.2 on Dec 3, 2005
This software is extremely easy to use. It has worked on everything I've tried except one DVD that was dual layered with protection. I suspect it was the dvd43 that was the problem.
some guy reviewed v4.2.9.2 on Dec 2, 2005
I see some hate this software, but I love it I only tested single layer burning, I thought it made a great backup of my movie, and was very easy to use 1-click, like it says. Their are others out their that are more advanced, that I see some people here like.
That do offer more opptions. But I like to just pop the dvd in hit copy ,,plain and simple I give it a 5