File Details

File Size
3,613.3 MB
License
Freeware
Operating System
Windows 7/8/10/Vista
Date Added
December 15, 2016
Total Downloads
79,453
Publisher
Futuremark Corp.
Homepage
3DMark
Publisher's Description
3DMark includes everything you need to benchmark your hardware in one app. Whether you're gaming on a smart phone, tablet, notebook, laptop, desktop, or a high performance gaming PC, 3DMark includes a benchmark designed specifically for your type of device. And it's not just for Windows. You can compare your scores with Android and iOS devices too. It's the best 3DMark we've ever created.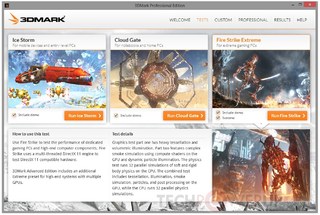 View Full-size
Latest Reviews
CyberDoc999 reviewed v2.0.1979 on Apr 13, 2016
see www.catzilla.com
for the real deal
CyberDoc999 reviewed v1.3.708 on Jun 14, 2014
has spyware adware
davygiven reviewed v2006 Build 1.1.0 on Nov 30, 2006
If you've already got '06 you can just download the 7mb Build 1.1.0 patch from
http://www.futuremark.co...wnload/3dmark06patch110/
eL MaesTro reviewed v2005 Build 1.2.0 on Jan 27, 2005
1st, I got a 9800 Pro on 3,0 P4 and runs very laggy
-- but well that's the intention, to bring every system to it's knees and to show what could be done in the future to the max

2nd. 9600xt are 2 years old not 4
somethinbaloo1 reviewed v2005 Build 1.2.0 on Jan 26, 2005
Good bench program and gives you a good estimate of how your computer should run for futuristic that will rip your computer apart. And for the 9600 xt, that is definately some older technology especially when you are not using pci express x16 which allows the graphics card to have the information to be transferred on a basic two lane highway instead of an old agp slot which it only allows it to go in one direction at time. So update your system before posting a bad review on it because of your older system. And they do have mad pci express boards now so you can still use your 3200+ if you choose to do so.
Somnambulator reviewed v2005 Build 1.2.0 on Jan 26, 2005
the absolute best piece of hardware to test system stability. crank up that FSB and loop 3dmark03 or 05 overnight. if it's running when you wake up, congrats on a nearly 100% stable overclock.
ModderXManiac reviewed v2005 Build 1.2.0 on Jan 26, 2005
Dear Mr. Athlon 64 3200 and 9600 XT, your an idiot, of course it runs like puke on a 9600, this program was intended for benching systems with AT LEAST a 9800 XT / Geforce 5900. BTW, a 9600 XT is NOT decent hardware ;)
If this runs like crap on your comp, then get 3dmark2003. Those of you who gave this program bad ratings because of your s***ty hardware, just stfu and leave reviews to people that know what they are talking about, and actually have recent hardware, not 4-year-old graphics cards.

I am very impressed, this thing gives my overclocked A64 FX55 quite a workout, and comes quite handy when overclocking my 6800, to see if I have any improvements. Best graphics benchmarking out there, period.
DiGiTaLFX reviewed v2005 Build 1.2.0 on Jan 26, 2005
Great program. Obviously nothing can beat a real game as a gaming benchmark. But you can't fault this as a synthetic benchmark. It is always ahead of the game stressing your computer to the max, therefore showing you how your computer will perform with next year's games (which is important when considering a new computer).
teranova52 reviewed v2005 Build 110 on Oct 31, 2004
Yes another 3D garbage, i do wonder what they promote this year , ATI or Nvidia ?? hahaha

My Gigabyte ATI 9600Pro rocks :-)
mjm01010101 reviewed v2005 Build 110 on Oct 1, 2004
A poor tool. Nice and pretty demo, but as a benchmark tool it's been both ahead of it's time for a few generations as well as a easily tweaked tool for the vid card manufacturers. It runs like puke on my hardware with Athlon 64 3200+ and 9600xt, which is decent hardware.

By the way, to the previous poster, you need to tweak your AGP available RAM in the BIOS, bump it up a tad.