Publisher's Description
ABC [Yet Another Bittorrent Client] is an improved client for the Bittorrent peer-to-peer file distribution solution. It is based on BitTornado 0.3.10 which extended from from Original Bittorrent Core System, coded by Bram Cohen.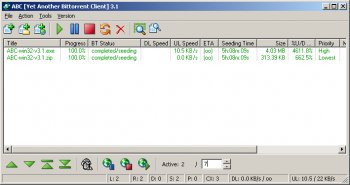 View Full-size
Latest Reviews
pwned32 reviewed v3.1 on Jun 27, 2006
i used this program for years.. until utorrent came out. i love this program, it just hasnt been updated in damn too long, i still have it and use it ocasionaly. other apps are catching up, even the offical bittorent app is very close to this. if you loved this app, id reccomend trying out utorrent, its small, got tons of options, and is still constanly updated
waves reviewed v3.1 RC1 on Sep 26, 2005
BEST CLIENT EVER!
I have tried Azureus and Bitcomet, but I keep coming back to this clean interface. It is the best by far, no doubt about it! Haven't tried this RC1 yet, hopefully it will be awesome!
Athena reviewed v3.1 RC1 on Sep 26, 2005
Used it for a while, because it's efficient and simple, but around version 2.9 something broke, download were not as efficient anymore, ressources began to be a problem.

Switched to azuerus, lots of functionalities but it takes way too much ressources

Now using bitcomet, and haven't looked back yet.
Klusternisse reviewed v3.1 RC1 on Sep 26, 2005
still a good application, but the lastest builds have take too far of CPU & RAM., have switched to µTorrent, that takes 4MB RAM
randyharris reviewed v3.0 on Sep 19, 2005
I want to like this program, I love the clean and simple yet effective interface. But the last several versions always lockup on my system and take 100% of the cpu cycles.
otonet reviewed v3.0 on Mar 24, 2005
3.0 often freezes on my PC, whereas 2.6 was working well. a great client, however!
rburly reviewed v3.0 on Mar 22, 2005
I agree with Heineken. The best BT client I've found, esp. if your puter vomits java.
israeli reviewed v3.0 on Mar 22, 2005
DigiSyn
you can download part of a file with Azureus too.
Azureus runs better.
Klusternisse reviewed v2.6.9 on Mar 6, 2005
great app , btw i'm using "ABC 2.8.0 OldKingCole test" , it takes less CPU :) well worth a try
Heineken reviewed v2.6.9 on Nov 1, 2004
the best bittorrent client :) very nice , and easy