File Details

File Size
1.3 MB
License
Shareware, $99.99
Operating System
Windows (All)
Date Added
March 22, 2023
Total Downloads
42,095
Publisher
ACD Systems
Homepage
ACDSee Photo Studio
Other Versions
Publisher's Description
ACDSee lets you organize, edit, and share your photos with ease. As the choice software for the practical amateur, ACDSee is trusted digital asset management paired with photo editing essentials. ACDSee is packed with efficiency-driven tools to help you organize your photos, tweak as needed, and inspire your friends, family and followers. Now featuring improved performance and stability, increased interface customizability to suit your process, more advanced noise reduction, and much more, ACDSee provides all of the fundamental elements you need for your productivity-motivated photography workflow. With a new mode dedicated to assessing yours stats on the fly, as well as settings to easily identify orphans amidst your library, ACDSee is the perfect solution for your growing photo collection.
Kaleidoscopes have the power to inspire the artistic eye to look at life from a different angle. In a similar vein, ACDSee Professional empowers photographers after the blink of a lens by granting them access to inspirational tools that can shape the world they share. Professional offers diverse new tools such as the time-saving Media Mode for interacting with the ACDSee photo database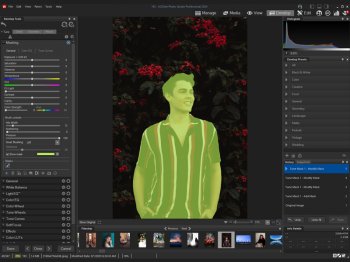 View Full-size
Latest Reviews
CiddiBiri reviewed v2019.0.0.1132 on Oct 13, 2018
Do you need new and complete pgotograph editor ? Yes, you find it !..
fudgeworth reviewed v5.0.110 on Dec 18, 2011
Spyware, read this:

http://community.acdsee....to-turn-off-the-spyware?
katewhite reviewed v4.0.237 on Aug 26, 2011
Be honest to say, it's not my favourite.
CapZap reviewed v4.0.93 Beta on Oct 20, 2010
First, I've used ACDSee Pro for years. Second, DxO Optics is my main processing program. Third, I don't like Lightroom though I have it and use it occasionally. ACDSee Pro is a great program. The best for browsing. Very good for processing though it lacks some of what DxO offers.

ACDsee Pro is $120. DxO is $170 to $299. Lightroom 3 is $285 at Amazon today.

ACDSee Pro is 61 MB. DxO is 105 MB. Lightroom is 162MB.

The only reason to use DxO over ACDSee Pro is that DxO automatically corrects for my specific camera and lens combination. I haven't used ACDSee beta 4 enough to see if it has added that feature but it used to require manual correction.

ACDSee pro is not bloated. It is a great piece of software. Always has been and still is. I process thousands of photos and use it regularly to catalogue, view and process raw files. I'd say you can't go wrong with this program.
BetaBuddy reviewed v3.0.355 on Oct 31, 2009
At this price and this many years in development this software is just not anywhere near worth the price. I feel stupid because I keep renewing it thinking it's going to be better. I have been running the trial now on Windows 7 64-Bit and it literally takes about 30 seconds to open the application itself. The viewer is quick but this application is just absolutely silly in how slow it is to load.
fudgeworth reviewed v2.5.335 on Oct 17, 2008
Getting more and more bloated and lumbered by an indexing system you can't turn off, even if you try to disable it by excluding all your folders.

If you find it getting slower and slower - and you will - you have to delete the database, something you probably didn't want in the first place.

Searching is an absolute abortion. Try searching for all the images within nested folders, then moving and renaming them. You'll give up before you figure it out. Used to be simple.

They really have lost the plot with this once excellent program.
DG reviewed v2.5.332 on Sep 11, 2008
Yes, ACDSee is bloated now. But it's still very strong and useful. Unfortunately, it's too pricey. I think ACD Systems is on the way to stagnation. Anyway, I rated its product as high as possible.
-Lord- reviewed v2008 5.0.244 Beta on Mar 6, 2008
I've been using this program off and on since 1995. I am simply FLOORED at how bloated it's become, and the price tag is ridiculous. Photoshop.
BB88 reviewed v2.0.219 on Nov 27, 2007
tbresson: Acdsee 10 opens image as fast as version 3, and I believe Acdsee pro 2.0 uses the same core as Acdsee 10 too.

BTW, who should people who wants a fast viewer rating the Pro version? It's not targetted to all the casual user who only wants a simple viewer anyway.
hell0 reviewed v2.0.219 on Sep 11, 2007
They need to make the indexing and more of the obscure plugins and features optional. The browser itself is the fastest and most full-featured on the planet, yet the rest of the bloat makes it seem slow.

I think that's the #1 complaint by users, it's too bloated! Look at all the comments, ACD, how long before you finally do something about it?