File Details

File Size
1.8 MB
License
Freeware
Operating System
Windows (All)
Date Added
June 10, 2007
Total Downloads
9,525
Publisher
AOL LLC
Homepage
AIM Lite
Publisher's Description
AIM Lite is a reference application for testing some new client technology developed at AOL, with the intent of being simple, fun and light. Provides a fast, no-frills AIM experience.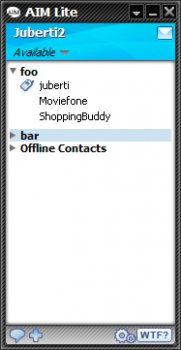 View Full-size
Latest Reviews
elitegangsta reviewed v0.33 on Oct 10, 2008
Excellent. Lite, Small, Clean, Very stable, best AIM only client out there.
Adrian79 reviewed v0.33 on Jun 11, 2007
good for its purpose, but if u want to voice/cam/fun/etc. try diff version
war593122 reviewed v0.32 on May 28, 2007
Starts eat a lot of CPU randomly here on Windows Vista.
Joe Dirt reviewed v0.32 on Mar 28, 2007
Good stuff. Maybe they should just crap can the full client and go with this one full time. It's much better!

I just recently installed the Full client too to see what (if anything) had changed to make it a good client. It was junk with way too much crap.

This client is how AIM should be.
digiturtle reviewed v0.31 on Dec 17, 2006
Lean mean IM machine. I gotta say I really like it. Get's out of the way and does everything I need it to do. I don't need video or audio or emoticons. I just need it to get down to business.
mauricer1 reviewed v0.31 on Dec 12, 2006
good idea with the plugins, but how the HELL do u install em
treworld reviewed v0.31 on Dec 12, 2006
This looks like the work of the Google Talk team. Both Google Talk and AIM Lite looks almost identical.
PhrostByte reviewed v0.31 on Dec 12, 2006
I like it but I wish the OS default theme worked nicely with WindowBlinds.
nms04 reviewed v0.31 on Dec 12, 2006
cool! aol finaly relased something useful :D
MngrCrucial reviewed v0.30 on Oct 17, 2006
"Yo! Adrian"...(heh). Aim 6 *is* Triton. Can't put lipstick on a pig. Aim Lite will always trump the ad ridden, bloated, muddy butt, hog.