File Details

File Size
12.9 MB
License
Freeware
Operating System
Windows 7/8/10/Vista
Date Added
November 8, 2021
Total Downloads
103,470
Publisher
Artem Izmaylov
Homepage
AIMP
Publisher's Description
AIMP Classic is a powerful audio player that allows you to listen to your favorite music with an outstanding sound quality. Its appearance resembles that of another classical audio player (Winamp), so you'll get used to it very quickly. It can also be customized with skins. The program includes a 18-band equalizer, a visualization window to display rhythmic visual effects and a playlist editor to organize your audio files. A nice fading effect makes your list of songs look like an endless music loop and a handy volume normalizing feature avoids drastic volume changes between tracks. Also, the player's main functions can be conveniently controlled by global hotkeys. Besides playing music, AIMP Classic features three extra utilities which also enable you to record any sound on your computer, convert audio files from one format to another and view or edit tags. AIMP Classic is based on the well-known audio engine BASS, so it's easy to connect new plug-ins (from the plug-in library included in the program) and expand the player's functionalities.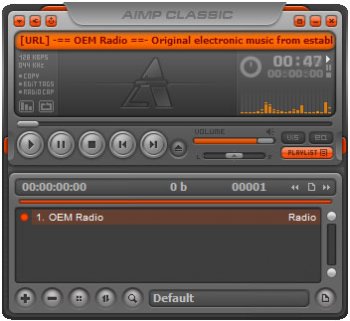 View Full-size
Latest Reviews
Lsavagejt reviewed v4.50.2056 on Dec 20, 2017
AOK
Zootopia3001 reviewed v4.13.1887 on Mar 23, 2017
I'm back to using AIMP, for Windows 10 on home theater system. The available Unfavourable skin is just absolutely awesome. The LP skin is good as well for a smaller mp3 avi window. I don't bother with the EQ, I use the sound driver properties EQ for a universal EQ setting. However, AIMP's DSP 'Enhancer' feature is nice, just needs to be ticked up a tad to really enhance that midrange. With that and the sound EQ going into my receiver amp the listening experience is amazing. There are also other DSP settings such as Reverb and Echo, among others. Still working to get the Crossfade just right, and there is also a Skip Silence plugin available for download that I have yet to try. I did prefer the SRS Effects on Windows Media Player, but WMP on Windows 10 has issues with caching MP3 tags (I have so many MP3s) and the Crossfade noticeably skips a bit thru the process, and the native Windows 10 Groove Player just sucks, sucks, suck sucks, no real features whatsoever. Other than AIMP, the only other third party player I ever really liked was Audacious for Linux.

5 stars for AIMP and the Unfavourable skin together, the main AIMP skin lacks, even the darker one.
TGB72 reviewed v4.12.1873 RC on Dec 25, 2016
The music library is full of bugs, realtime update doesn't work as it should be, it's incredible slow, I tried it for long time as alternative to f2k, the sound quality is great, also the UI but the way the library works made me uninstall it and go back to f2k.
Slug_Coordinator reviewed v4.10.1831 on Sep 1, 2016
Shame they dont support Shoutcast Plugin so you can stream with it...
legion reviewed v4.10.1816 Beta on Jul 2, 2016
Small, fast, configurable, useful little audio player.
Sven123456789 reviewed v3.60.1497 on Jul 15, 2015
Not bad. Slight learning curve. But overall its pretty good. Good sound quality. UI is ok. Easy to bring music folders over. Worth a try for sure.
Andy Dean reviewed v3.60.1492 on Apr 27, 2015
Areally good mp3 player, I'll give it 4 stars.
However my personal preference is for foobar, I like the way it can be conigured to look exactly the way you want.
sajukst reviewed v3.60.1492 on Apr 24, 2015
Great! It is one of the best product. Really it is a very good product. I love this products very much. Here you get more products, http://www.njdelta.com/
breebree reviewed v3.60.1483 on Mar 2, 2015
My goto player, use the small mode and tuck it away in the corner. Have numerous play lists that take care of a full day.
sSHarK reviewed v3.60.1479 on Feb 6, 2015
Finally runs on Windows 10 - THX!!! :D