File Details

File Size
12.2 MB
License
Freeware
Operating System
Mac OS X
Date Added
October 29, 2010
Total Downloads
1,772
Publisher
AOL LLC
Homepage
AOL Desktop
Other Versions
Publisher's Description
AOL Desktop integrates email, Web browsing, instant messaging, and other online activities into a single, easy-to-use application, letting you multitask in fewer clicks and fewer hassles. With a sleek, modern interface and convenient new features, it is designed to help make everything you do online faster and easier.
AOL is back for Mac. AOL is reaffirming its commitment to Mac users with the first beta release of a brand new, all-in-one web software, now available for download: AOL Desktop for Mac. The best part, this free new software was developed by Mac users, for Mac users, from the ground up. Your Mac makes your life easy. Make it even easier with the new AOL Desktop for Mac. Mac@AOL Blog can be found at http://macblog.aol.com.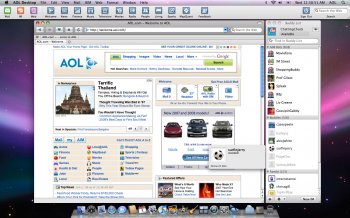 View Full-size
Latest Reviews
PaceyPimps reviewed v1.7.721 on Nov 11, 2010
When it has Video chat like the windows version has i will try it but for now ichat is better and can be used for aim chat and video chat.
some guy reviewed v1.6 Beta 3 on Oct 14, 2009
get the full bloat of AOL now with Real media player for your mac
DoHickey reviewed v1.6 Beta 2 on Sep 13, 2009
Why would anyone with a Mac put this mess on the machine?
The Windows version is bad enough, Eeeek!

I've started calling it the freeze me up bundle.
man friday reviewed v1.5 Beta 8 on Dec 12, 2008
Brilliant - just like building a Wal Mart inside the Mall
jescott418 reviewed v1.5 Beta 8 on Dec 12, 2008
All of AOL software is Beta. Who would ever put a RC on crap. Last desktop for Mac was bad and this one is no better. Who really needs AOL software running on their computer? Even if some of the few who still use AOL, why even bother with the software? A good web browser like Safari or Firefox will run much better and use less resources.
some guy reviewed v1.5 Beta 7 on Nov 26, 2008
AOL die already take real player with you!
godofthunder reviewed v1.5 Beta 6 on Nov 3, 2008
If it makes people happy using it, then good for them. Each to his own.
BklynKid reviewed v1.5 Beta 6 on Nov 3, 2008
Why on earth would I allow some application to tarnish my beautiful OSX desktop, let alone use AOL?
preinterpost reviewed v1.5 Build 506 Beta 1 on Jul 16, 2008
Sounds perfect for Mac users.
LEckerling reviewed v1.0 on May 13, 2008
There are some good things about AOL desktop, but several glaring problems, and they have to do with "mail". First, the print is VERY small, and you can't set a default size in preferences, so you have to manually change the point size each time if what is sent is not to your liking. Also, "new mail" doesnt work nearly as fast as the old (now defunct) AOL software. When sending mail to a whole folder of people, it enlarges the window to the point that you have no place to type your message, and there is no scroll bar to scroll down. Which means you must type in your message first, and then add the messages.
Also, from Address book, There is no option to bcc...which means you have to copy and paste. You have to do a workaround to bcc someone from the addressbook. And...scrolling down the address book when you first open it up is a challange because it pops back each time until something is actually loaded. This is all a cumbersome problem. I want to like this software, but I can't recommend it...not just yet.