Publisher's Description
ASN Active Directory Manager is a comprehensive tool for managing Windows Active Directory. The tool supports Reporting and Bulk Management for multiple domains in a single installation. Also this tool can be installed in a workgroup machine, the remote domains in the network can be managed from the workgroup machine.
This tool provides 3 options to create bulk users and other objects in few simple clicks. Import CSV method creates thousands of users in a single click. All the domain users (needs to be created in another domain 'B') in domain 'A' can be exported to a csv file with required attributes (column headers) in a single click. And the same exported csv file can be imported in domain 'B'. Automatic creation method provides the option to create thousands of indexed users. This tool provides the advanced properties interface to set complexed attribute like memberof, manager, etc for bulk users. Also single users can be created with more properties set. All the three options can be used together. Like user creation, contacts, computers, groups and ous can be created in bulk.
Bulk users can be modified with bulk attributes with ease using simple user interface. The tool supports import csv and other advanced options to modify the users in bulk. The users to be modified can be picked by selecting corresponding Container and Groups. Also the users can picked by advanced search options. Thumbnail photo can be set/clear for thousands of users in a single click.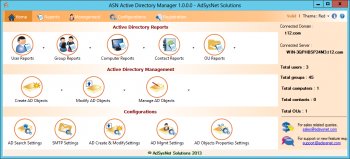 View Full-size
Latest Reviews
Be the first to write a review!