File Details

File Size
13.1 MB
License
Shareware, $39.95
Operating System
Windows 2000/XP
Date Added
January 3, 2008
Total Downloads
83,797
Publisher
AVG Technologies
Homepage
AVG Anti-Spyware
Other Versions
Publisher's Description
AVG Anti-Spyware is an efficient solution against the new generation of threats spreading over the internet. Secure your data and protect your privacy against sypware, adware, trojans, dialer, keylogger and worms.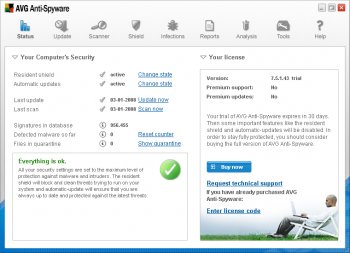 View Full-size
Latest Reviews
prghon reviewed v7.5.1.43-3339 on Jan 14, 2009
update server sucks
tigreseis reviewed v7.5.1.43 on Nov 19, 2007
inspiredeb is a moron. AVG trial works fine and can be easily uninstalled.
echohead reviewed v7.5.1.43 on Oct 8, 2007
yes, you have to pay for the full version...but for any intelligent computer user (who only needs on-demand scanning), the core program features are free.

AVG-Antispyware has a slightly better detection rate than spyware terminator and uses less memory than SUPERantispyware.

and SAS does the exact same thing as AVG + rogue remover, so ATM im using AVG and spyware terminator. no problems and absolutely NO memory hit.
inspiredeb reviewed v7.5.1.43 on Oct 5, 2007
Warning: Don't download the trial version of AVG Anti-Spyware 7.5 unless you're sure you want to buy it. You can't uninstall the trial version of the software. There is no uninstall routine provided with the trial. Then you're stuck with sales support because you don't have a license # and they only provide canned, ineffective solutions. You'll be stuck with AVG's processes running in the background. Do you need yet another process gunking up your system?
Nikkie reviewed v7.5.1.43 on Sep 8, 2007
This still has a way to go but it has the right idea.I'm still more interested in superantispyware...
btman reviewed v7.5.1.43 on Jun 16, 2007
Awesome scanner, detects alot more than others. Plus it IS freeware for the most part... Yes 30 day trial for realtime protection... But after the 30 days you can STILL update and run scans... So either way the malware it detects will be removed. Very nice software indeed.
Orbitration reviewed v7.5.1.43 on Jun 15, 2007
Slow, slow and slower. Over an hour for a scan, found 8 cookies that get deleted anyway.

Biggest thing is it's NOT freeware, it's 30-day trial ware at that.
pctech5189 reviewed v7.5.1.43 on Jun 14, 2007
Avg Anti Spyware I think is probably the best anti-spyware program out there. It has high detection rate, good removal, And a very thourough scanner.
runningfool reviewed v7.5.1.36 on Jun 5, 2007
AVG AntiSpyware uses less RAM than NOD32 AntiVirus (which is notorious for low memory usage), but at the same time has a better detection rate than anything on the market.

this has been the best antispyware program you can get, ever since AVG bought it from ewido.
Jegar48 reviewed v7.5.1.36 on Jun 4, 2007
There are no features in this program that make it worth anywhere near $39.95.