File Details

File Size
57.3 MB
License
Shareware, $49.99
Operating System
Windows 7/8/10/Vista/XP
Date Added
May 17, 2019
Total Downloads
68,834
Publisher
AVG Technologies
Homepage
AVG TuneUp Utilities
Publisher's Description
AVG TuneUp Utilities makes Windows faster, more secure, and comfortable. All important aspects of system configuration, security, cleaning and maintenance are combined under a modern graphical user interface.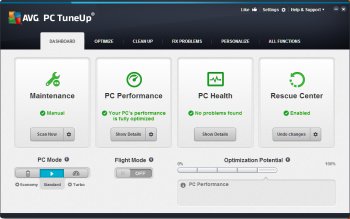 View Full-size
Latest Reviews
gsteele reviewed v2017 on Mar 11, 2017
Overpriced for what it does. There are lots of freeware and lower cost programs that do a better job.
AthleticLatino reviewed v2014 14.0.1000.145 on Oct 26, 2013
I purchased the 2014 version and now regret it. My Windows 8.1 computer got BSODs consistently after installing and running it. I had to reset my OS several times as a result and the option to refresh did not work. The two things I disliked the most was the fact that it installs itself to run at startup and offers no way to terminate once its running. It also caused some installs and programs to not run without any alerts asking you if you wish to continue. Once I got this uninstalled my system became stable once more and ran normally. I regret that I wasted money on this.
Uriel reviewed v2013 13.0.3020 on Feb 8, 2013
Screwed my computer up and when I managed to uninstall it using JV16 Powertools and Revo Uninstaller Pro together, my computer started to work normally again.
Music4Ever reviewed v2013 13.0.3020 on Feb 7, 2013
Download CCleaner & a free defragger, if need be use the winapp2 add-on & you don't need this software which will probably at some point mess your day up.
numbersjim reviewed v2013 13.0.3000.138 on Jan 31, 2013
This is the worst program ever!!!! I am surprised that Betanews has ads to buy it. The phone number for tech support NEVER gets answered. When you leave a message they never call you back. When you submit a request on line, you get an email saying they will contact you, but that never happens. Even after you purchase the product, you will get 20 pop ups a day to buiy it. Is there anyway to completely unistall every trace of it? Rating is -10!
paul83 reviewed v13 on Oct 29, 2012
A simple advice Do NOT install the trial version on any computer! As they will force you to purchase as you cannot deinstall it
HeilNizar reviewed v13 on Sep 18, 2012
Nose-ware
Music4Ever reviewed v2012 12.0.3500.14 on Apr 14, 2012
Beware of any program that has 'utility' in it's name ~ There once was a place for this sort of program 10 - 15 years ago ~ Now unneeded & can do more harm than good.
roj reviewed v2012 12.0.3000.140 on Feb 7, 2012
Back in the days of XP64, this was a worthwhile product because several features were included in it that the OS did not supply and could not be reliably obtained via freeware.

That was a long time ago, the Windows OS now includes many of the features built into this package and the rest are available via reliable open source or freeware applications.

Any claims made about speeding up the OS are out-and-out false and cannot be substantiated via credible metrics. The Windows OS is self-tuning and requires no aid in optimizing itself.

There is absolutely no necessity to waste money on this product and paying for it is analogous to lighting your money on fire.

I have to agree with Input Overload in his assessment: this is a con job at best, preying on ignorance.

I'll give it ONE star because that's the lowest this site supports.
itsallgood reviewed v2012 12.0.2160.11 on Jan 9, 2012
We recently installed the 2012 version on several of our office computers. We were using the program for some issues on 1 PC in particular and decided to try and speed up the others. 1 of the worst mistakes we ever made. This program has caused all 3 PC's to have serious issues. I have had to have a company come in to fix all 3 PC's. We have tried on numerous occasions to contact their customer support here in the US. No one answers the phone. They ask you to leave a contact # to return your call. After 3 messages in 3 1/2 weeks still no return call.

I WOULD NOT RECOMMEND THIS SOFTWARE TO ANYONE. IF FOR NOTHING ELSE JUST THEIR CUSTOMER SERVICE