Other Versions
Publisher's Description
Adobe Photoshop Lightroom is the efficient new way for professional photographers to import, select, develop, and showcase large volumes of digital images. So you can spend less time sorting and refining photographs, and more time actually shooting them. Its clean, elegant interface literally steps out of the way and lets you quickly view and work with the images you shot today, as well as the thousands of images that you will shoot over the course of your career. Because no two photographers work alike, Adobe Lightroom adapts to your workflow, not the other way around.
Lightroom lets you view, zoom in, and compare photographs quickly and easily. Precise, photography-specific adjustments allow you to fine tune your images while maintaining the highest level of image quality from capture through output. And best of all, it runs on most commonly used computers, even notebook computers used on location.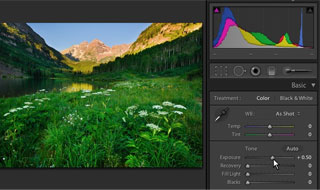 View Full-size
Latest Reviews
uberfly reviewed v5.5 on Aug 1, 2014
Gold standard. In this case you get what you pay for. Extensive abilities and well thought out.
DDRAMbo reviewed v5.5 on Jun 27, 2014
In recent years I've been using this a lot with my state-of-the-art win7 32-bit system with 4GB RAM, which should be sufficient for viewing/editing at most around 15 or 20 pics no larger than 4.5MB ea (while not running any other software), but Lightroom continues to have some kind of memory issues that I'm sure they would prefer to associate with 'deficiencies' in my computer, even though it has all new hardware less than 2 years old. It will choke when exporting one or more photos with an error stating there's 'insufficient memory'. That's right, sometimes it chokes on one photo. No other major photo editor has a problem like this in my experience (and I'm still going back and forth between these apps as new versions come out), including ACDSee, Corel PSP, Dx0 Optics, CorelDRAW, Zoner Pro and even Photoshop itself.
Of all of these, for quick and dirty editing and 'downsizing' the results for web submission, I'm beginning to prefer ACDSee. It is very fast and I think some of the functions are less complicated, plus it has lots more features.
I assume that most folks will find some features of one or another of these apps preferable. Lightroom, for example, has better digital noise cleanup and chromatic distortion (commonly known as purple fringe repair, which Lightroom lets you select directly from the image) than Dx0 Optics, so you have to read reviews or try most of these before you buy.
Just be sure to get an app that has some built-in system to automatically protect your original images from edits you make, unless of course, you know for sure you won't need to go back later on. Even Google's free Picasa has this feature. All of these have some system like this except PS, PSP and CorelDRAW.
Karol Mily reviewed v5.5 on Jun 27, 2014
It is possible to change UI theme color? Too dark for me.
BooM13 reviewed v5.4 on Apr 30, 2014
Probably the best program for editing and correcting photos
chrispaul reviewed v5.3 on Feb 17, 2014
good
TomasF reviewed v4 Final on Mar 9, 2012
A solid upgrade to an excellent product
adamsguy reviewed v3.5 Release Candidate on Aug 26, 2011
I must say I cant afford this overpriced program.
uberfly reviewed v3.5 Release Candidate on Aug 25, 2011
Had previously purchased ACDSee Pro and Bibble looking for the right solution. If you dig into Lightroom, it's miles ahead of its nearest competitors. The ability to create a running, always available string of edits on an image, but never modifying the actual original is great for me. Best money I ever spent.
trevithick reviewed v3.4 on May 2, 2011
I recently tested LR with every inyention of buying it since it was recommended by a friend who is a setious photographer,

No slick interface here, in fact if you're a fan of Windows Explorer's tree structure, you'll be lucky to find your photographs. I detest the way LR manages photos.

LR has some great features if you're willing to spend the time learning the obtuse interface and spend hours going through all your work tagging, editing, etcetera.

The single feature I found to be almost universally great was the Auto WB button. It seldom failed to improve my images.

As many have previously noted, LR is too expensive for what it offers. At the end of my 30 day trial I uninstalled it and have no intention of purchasing.
some guy reviewed v3.4 RC1 on Mar 16, 2011
nice product but over priced will stay with Scarab Darkroom
http://fileforum.betanew...b-Darkroom/1252534369/1