File Details

File Size
9.4 MB
License
Shareware, $29.00
Operating System
Windows (All)
Date Added
June 27, 2012
Total Downloads
4,871
Publisher
Dazler Software
Homepage
Agent by Forte
Publisher's Description
Agent by Forte is a Usenet and e-mail reader. It features kill and watch filters, sorting, support for MIME/Base 64 encoded attachments, and more.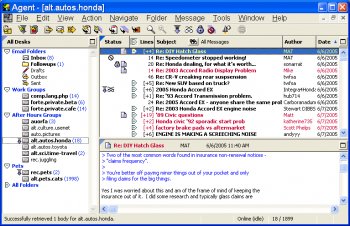 View Full-size
Latest Reviews
anders1234 reviewed v4.2 Build 1118 on Jun 23, 2007
I think the earlier releases were much better, instead the version 4.2 is a buggy piece of crap and I would recommend using some other newsreader instead. By every version the GUI becomes more and more unstructured. It was already bad in previous versions but now it is really crap.

I think functionality wise the agent is great but the programmers have really spoiled the GUI. The architect of the GUI must come from the same breed that designed the GUI for Lotus Notes.
kda reviewed v4.2 Build 1118 on Feb 10, 2007
They have ruined good software. Version 2 and earlier was easy to use and made intuitive sense.
When they upgraded the basic newsreader capabilities in version 3 and later, they did add additional "download threads" and improve download speed. But to their shame, they also turned some idiot lose to really trash the interface and in the process, made it a miserable chore to use the program.
I have never ever heard one person say they like the new interface or find the new GUI more than barely / tolerably usable. I tell all those I know to just stick with version 2.x and count their blessings. Spending money upgrading from version 2 is just buying yourself a headache, one you will likely regret.
wharke reviewed v4.1 Build 1088 on Oct 17, 2006
You would think by now they could include a horizontal scroll bar so one isn't forced to lower the font size in order to see the complete subject line. Not everyone is blessed with perfect vision or 1900x1600 screen resolution capabilities.
bobad reviewed v3.2 Build 830 on Feb 2, 2006
Agent is still the most powerful news reader out there, but the clunky interface ruins it for most. What a shame. The people at Dazler should take GUI and filtering lessons from FoxMail and come out of the dark ages.
christoofar reviewed v3.2 Build 830 on Feb 1, 2006
agree with uberfly. In attempting to make it better, they've only made it more clunky & harder to use.
I am still happy using 2.9X
yokozuna reviewed v3.2 Build 830 on Feb 1, 2006
Some years ago it was one of the best. Nowadays it is only so-so. XanaNews is much better. And free.
uberfly reviewed v3.1 Build 783 on Nov 19, 2005
Pre-3.0 versions were 'somewhat' intuitive. These 3.x version are a confusing mess. I used to know my way around this app, but am now stumped and frustrated by this program. Off to find something new.
imno007 reviewed v3.0 Build 763 on Sep 11, 2005
WHERE'S MY 'ALL GROUPS' LIST?!! That's the number one thing I've discovered so far that REALLY irks me! Now Agent uses the 'Newsgroup Directory' under the Tools menu and you have to search for groups every freakin' time, if you don't save them. For security reasons, people will not always want to do this - which means that each time you gotta go searching for them again. Before, with All Groups, you just searched has to do the one seach under the All Groups menu. Now it's become you have to go through another step - which wouldn't be sooo bad except that you apparently can't do partial searches anymore. I've found that groups I could find before under a partial word search now require me to type in the full name! This is progess?

Also, in the Newsgroup Directory, there's no way to get rid of previous group searches! What a stupid oversight! You have to manually edit a damned .ini file to do this! Bah!!

I like a couple of the new additions, but I might revert back to last Agent version for now....
dale303 reviewed v3.0 Build 763 on Aug 16, 2005
OK, I admit I use Agent primarily as an email client with it's secondary use as a Usenet clients but come on. What a load of bollocks!

As a user of Usenet primarily for tech support, language study and a bit of socializing, Agent 3.0 has improved by pretty much 0%. In fact overall, it might have even gone back some percentage points.

Their new 'feature' list...

"Multiple News Servers and Multiple Connections to News Servers" : One's enough for what I need thanks.

"Task Management" : And that helps me how?

"Folder and Message Organization" : Complicates things rather than simplifies things by insisting on duplicating folders rather than moving them. Still can't nest folders.

"The Newsgroup Directory" : The one we had already was good enough.

"Menu and Toolbar Changes" : prettier icons... wooo!

"Sending and Receiving Messages" : New outbox and sent folders, just like every other email program in existence... wooo again!

"Bookmarks" : more confusion. If you had properly nested folders, you wouldn't need bookmarks to help you find things.

"Help Tips" : To help you find your way around the dogs breakfast that is the new desks view.

Now here's what I think is missing from Agent for years...

Usenet functions...

Ability to find the right newsgroup quickly

Double byte language support for both reading and WRITING, especially Unicode and Japanese Shift-JIS.

Email functions...

Properly Nested folders (is that really soooo hard?)

Ability to render html. I despise html in emails but 80% of what I receive is is in html so I would prefer a way to read the bloody things straight away. I don't need JavaScript enabling or and flashy crap but the ability to read common or garden html (even if it just meant stripping the html code out) would go down great.

Of course I still use Agent but there's now only one single reason; it's email filtering system. When you get as many emails as me from new people everyday, you need something that with a couple of clicks can permanently filter email addresses to certain folders.

40titude Dialog beats the pants out of Agent in every respect except for the sows ear that is it's filtering system. I don't doubt it's really fancy and can run rings around Agents filtering system but you can't just highlight an email, click 'add filter' and with one or two more short clicks get all other emails with that email address to forever more be dropped in a different folder.

That really is the ONLY thing left that's keeping me from moving.
Jose reviewed v3.0 Build 763 on Aug 15, 2005
I can't believe that this program still doesn't support multiple email accounts! Was it really that hard? Do I still need to use separate programs for email and news? What a disappointment.