File Details

File Size
1.3 MB
License
Shareware, $19.00
Operating System
Windows (All)
Date Added
October 27, 2023
Total Downloads
4,932
Publisher
G&G Software
Homepage
Aml Maple
Publisher's Description
Aml Maple is a new point of view at keyboard layout indicators: simple, modern, flexible. It's easy to find - just look at the typing place or mouse cursor. It's easy to understand - current layout can be indicated with colored symbols and/or national flag icon. It's easy to use - indicator is compatible with absolutely most of the programs: both windowed and console. It's easy to setup - 9 interface languages, 30 language layouts are supported out-of-box.
Aml Maple is a helpful indicator for the currently used keyboard layout. The indication is configurable and might be done in two ways either by text cursor or mouse pointer or both of them. The indication in the text cursor is done by changing its color and indicating the language name to or below of the cursor. The cursor width is also configurable. The indication in the mouse pointer is done by showing either the language name or country flag next to the mouse pointer.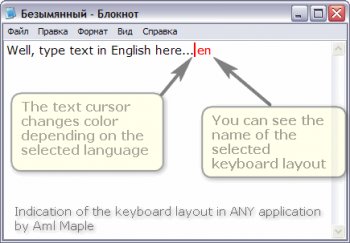 View Full-size
Latest Reviews
VladD reviewed v7.24 Build 884 on Nov 13, 2023
Very useful application, current relese needs some fixes
dimakovalev25 reviewed v6.44 Build 836 on Oct 18, 2022
The program is just fire!!!!
alex_bagua reviewed v6.40 Build 827 on Aug 11, 2022
This is must-have software
kangaroo420 reviewed v6.37 Build 821 on Jun 11, 2022
A tool that serves it's purposely, clearly well enough and even beyond standard
MrDread reviewed v6.34 Build 812 on May 5, 2022
I always envy to enslish speakers - they dont need to switch keyboard layouts ever. They dont need to throw looks to corner of their monitors to check - is it correct language to be selected or no.
I tried different stuff: set my Caps lock indicator for language incation, trying other software, but when I installed Aml Maple - I realised - this is what I was looking for all the time. This tool is simple, fast but with tons of options of indication to choose from. After 2 days of usage - I already cant imagine my life without the tool. Big thanks for developers and best wishes. Will definetely try their other tools.
seche reviewed v6.29 Build 803 on Jan 29, 2022
Recommended to give it a try!
drdit reviewed v6.26 Build 799 on Nov 7, 2021
A nice utility for anyone who types not only in English.
Mozyr reviewed v6.22 Build 791 on Jul 7, 2021
I think this is the best program for working with keyboard layouts.
A.Surzhenko reviewed v6.15 Build 781 on Dec 16, 2020
I think, it's the best program to switch keyboard to another layout.
toivan reviewed v6.12 Build 777 on May 20, 2020
I think that Aml Maple is the best app for controlling keyboard layouts.