File Details

File Size
23.5 MB
License
Open Source
Operating System
Windows 7/8/10/Vista/XP
Date Added
December 25, 2018
Total Downloads
19,638
Publisher
ApexDC++
Homepage
ApexDC++
Publisher's Description
ApexDC++ (formerly PeerWeb DC++) is an innovative Direct Connect client based on StrongDC++. It has numerous features such as the PeerGuardian blocklist manager, customisation, themes, super seeding, a friendly GUI and more.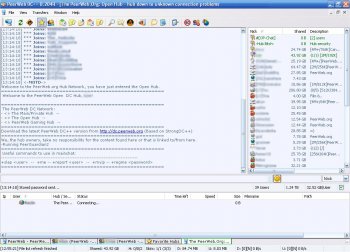 View Full-size
Latest Reviews
chrispaul reviewed v1.5.10 on Feb 17, 2014
good
smaragdus reviewed v1.5.8 on Sep 18, 2013
Mandatory updates plus Ad-ware makes it useless.
FatBastard reviewed v1.3.5 on Aug 5, 2010
APexDC++ is very bloated :(
jorgosch reviewed v1.3.5 on Aug 5, 2010
Program is fine, but enabling DHT by default is a HUGE security blunder for private hubs! That way, people you've never heard of can access your share.
UPieper reviewed v1.3.2 on May 31, 2010
Automatic IP update has been fixed with V1.3.2, finally!
UPieper reviewed v1.3.0 on Feb 27, 2010
Latest version 1.3 is noticeably more responsive...Very good DC client
xabhijitx reviewed v1.2.0 on May 21, 2009
This is a pretty bad version of regular DC++
you have to click on a folder, wait for a while before it shows contents of the file!
I had shared more than 100 GB, one fine day it showwd me 70 GB shared, i thought it might be a minor bug.
Well next day it was at 0 GB share, means i had to hash all my files again.
Damn, it takes days to hash 500 GB.
Damn stupid software, kill it before it grows !
mikefeuer reviewed v1.2.0 on Apr 13, 2009
1.2b never caused a problem. Excellent product.
mikefeuer reviewed v1.1.0 on Jun 11, 2008
Version 1.0.1 rather clumsily started warning you to upgrade, asking you to download. Accepting just had the program shut down, and you're on your own to get 1.1 yourself. Not so bad really, and it still gets a high mark. I've only had a minor problem with one of the betas a while back. Runs all day every day without an issue.
serrebi101 reviewed v1.0.0 Beta 5 on Jan 19, 2008
If you've stopped using dc++ because of the crashes when using the keyboard looking at search results, filelists etc, try apex dc++. It's great, and never crashes for me. This version only uses 1MB of mem during most situations.