File Details

File Size
3.4 MB
License
Freeware
Operating System
Windows 2000/9x/XP
Date Added
September 21, 2007
Total Downloads
29,982
Publisher
Arovax
Homepage
Arovax AntiSpyware
Publisher's Description
Arovax AntiSpyware is an innovative, powerful, speedy and extremely easy to use Anti-Spyware scanner and remover. It is designed to become a solid defense for PC systems by giving a fight back to the most dangerous online threats of the new century.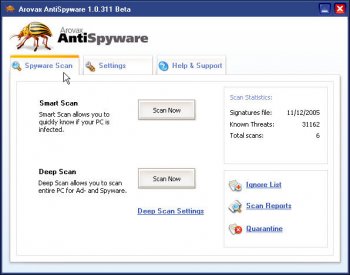 View Full-size
Latest Reviews
CharlieGimbert reviewed v2.1.153 on Sep 24, 2007
Quite good
Tao2005 reviewed v2.1.143 on Jul 11, 2007
Well this one is kinda nice with it's scans. Though the UI could use a make-over. I use this one with Avast, and Spysweeper. If the UI was better, then I would rate it more, but then again, you get what you pay for.
Dwiebelhaus reviewed v2.0.113 on Apr 26, 2007
Not a replacement but to be used in conjunction with the other known good anti-maleware programs.
PostDeals reviewed v2.0.113 on Apr 25, 2007
Its free so I don't expect it to catch everything but its definitely a good FREE APP for those that have nothing.
shxrobert reviewed v2.0.65 on Feb 7, 2007
This has been quite stable on my system. Like all the other popular free scanner/removers available it does not detect everything but is still worthy to use. Just because Adaware finds something Spybot Search and Destroy does not, should not imply Spybot Search and Destroy is not an essential piece of software. Same goes for this program. It has found instances that both SBSD and Adaware have failed to find during tests I have conducted. In relation to an earlier comment about real time protection Arovax has had for some time http://www.arovaxshield.com/ which is a good start in stand-alone "Immunization" products. When used in conjunction with each other they provide a Realtime/Scanner/Remover.
Yannis_GR reviewed v2.0.65 on Jan 6, 2007
Nice interface, simple to use it but it's database is outdated now.
It lacks real-time protection and heuristics protection.
Waiting for the upcoming release soon.
Still fan of Arovax products and devoted tester!
Nikkie reviewed v2.0.65 on Oct 31, 2006
Ewido is 30 bucks!! This is free and tracking cookies can be cleared by cleaning the cache and other areas of the pc.Ccleaner is good for that and spybot is much better than ''ewido'' ...Adware also beats that program out of the water..

This one right here is pretty good but needs work..Sorry to the person below but i give respect and support to free programs..If it worked great and cost,I wouldn't buy it.I have more useful things to waste my money on and patience for the free programs/dev's..
jon8rfc reviewed v2.0.65 on Aug 4, 2006
Good supplement to Ad-Aware & SpyBot.
Maca reviewed v2.0.65 on Jul 22, 2006
Did a scan - found nothing.
Did a scan with Ewido and found 243 tracking cookies.
SPEAK IT Sophist_Dreams. Amen sister. About time someone got off the BS train Arovax seems to have lately. Spyware Terminator pwns this so bad it's not laugh worthy. Build in Clam-AV with a Spyware database + Intrusion Protection and you've got an Arovax killing machine.

I'm lovin' it! And for those who are like 'It's free, lets show respect'...ummmm no? You know why? Because it's not worth money, nobody would buy it if it cost something. No features, not a great spyware database...selling it pointless as they'd be in the same situation they are now. And lets face it...there are more capable 'FREE' scanners.

Ad-Aware
Spyware Doctor (Free Realtime Offer)
Windows Defender
Spycatcher Xpress 2006

If you want to compete Arovax, stop being a POS and add realtime protection and heuristics along with a more filling database. THAT would be a great free product. Till then you'll always have the likes of Spyware Terminator (once rogue!) embarassing you.