Publisher's Description
Ashampoo Photo Commander is a powerful all-in-one solution to view, edit and organize your photos. Features include automatic image optimization plus manual effects and various tools to recover faded images, remove scratches, fix red eyes and eliminate digital noise. The integrated batch processing is ideal for large numbers of images and supports conversion as well as common image manipulation features. Users can also create individual collages, calendars and photo cards based on multiple included templates and frame designs for quick results. Geotagging support makes it easy to search images based and visualize their locations on a map and various advanced filter and grouping modes help with keeping track of huge collections. The program also features a presentation with resolutions up to 4K for smooth presentations across multiple displays. Slideshows with seamless transitions and background music can also be created.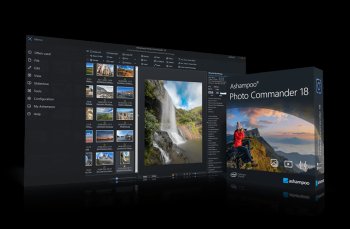 View Full-size
Latest Reviews
Music4Ever reviewed v16.0.0 on Sep 25, 2017
Not much changed from 15, if you can get it really cheap OK otherwise no point in 'upgrading' Fotor which is free is almost as good. Can't see me upgrading again.
Music4Ever reviewed v15.0.0 on Oct 6, 2016
Not much different from version 14 - But whoever thought that making the toolbar multicolored is an idiot, it looks amateurish with bells on. If you have a previous version don't bother 'upgrading' to this one. Also gets more bloated with each new release, developers have lost their way. Fotor is around 66 meg this is now exceeding 300 meg - Not much good to say about this.
boopie reviewed v14.0.0 on Oct 15, 2015
LoL 60 bucks to do basic editing!
Something smells!
some guy reviewed v12.0.12 on Jul 26, 2015
to many free-wares that do a better job
Fotor
http://www.fotor.com/windows/
the Gimp
http://www.gimp.org/
Betanoob reviewed v12.0.10 on Apr 30, 2015
Jetz is my bro
scf reviewed v12.0.6 on Nov 14, 2014
most excellent.
Music4Ever reviewed v12.0.0 on Jul 9, 2014
For basic photo viewing, quick cropping & leveling of photographs as well as basic brightness, contrast etc adjustment it's great - Costs me around £9 to upgrade & find it very useful - If you want to do advanced photo editing you need Adobe Elements or the unsurpassed Photoshop, although Serif Photo-Plus is also half decent. This version 12.0 is not the final.

Betanoob don't be an idiot all your life, have a day off - Oh & try to get to school more.

One of Betanoob's alter-ego's is Jetz BTW.
Betanoob reviewed v11.1.4 on Apr 4, 2014
Yeah, very nice sh1tware!
How do scammers and spammers get fanb0yz?
chrispaul reviewed v11.1.1 on Feb 17, 2014
very nice!
Music4Ever reviewed v11.0.4 on Aug 12, 2013
@Betanoob:
If you are going to make a review at least learn to spell before you submit this & your other one star foolish 'reviews' - I'm sure your opinions are valued by any others who are also intellectually challenged & uneducated?

I actually do have some excellent photo editing software but I use this for basic photo browning & quick simple fixing & for that it does the job very well, it's stable, fast & inexpensive & have used it for several years.