File Details

File Size
15.2 MB
License
Shareware, $28.00
Operating System
Windows (All)
Date Added
August 12, 2010
Total Downloads
9,922
Publisher
Gladiators Software
Homepage
Aston
Publisher's Description
Aston is a Desktop manager and Shell replacement for Windows. It fully replaces standard Windows Desktop and delivers a host of new features: Nice looking, easy-to-change interface, skins for all elements, detailed setup of any element, simple visual configuration, toolbars of any size with plenty of levels, any size & shape icons can be animated, Plug-ins, hotkeys, shell Swapper, and Install & Uninstall.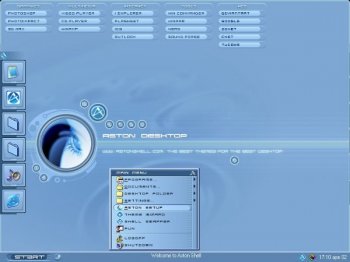 View Full-size
Latest Reviews
Sammo reviewed v2.0.1 on Jun 16, 2010
This is the best shell replacement that I have used. It is fully customizable and actually uses less system resources than the default windows shell does.
Grandpas reviewed v1.9.5 on Jul 4, 2007
I've tested a lot of desktop managers. On my opinion, Aston is clearly one of the best.
You can't install it .. look at it and after 5mn say 'yes it's good' or 'no, it's bad'. You have to make your own settings, use it for several hours or days .. and then .. well you will see that it's a very good piece of software. Very few problems with win32 (never used with Vista) ... unfortunately, the windows x64 compatibility is not perfect.
Aston can not be compared with Samurize; clearly not the same objectives.
Ain Soph Aur reviewed v1.9.5 on Jul 4, 2007
a very nice shell with a lot of features. i think it has a shiny future but the skins are not very beautifull but you can make a lott out of it. sorry for my bad english.
but on the other hand, you can also use 'samurize', its free (ok, not a shell) and highly customuzable! a lott better then this...

sorry for my bad english
ahjefri reviewed v1.9.5 on Jul 4, 2007
those who have not tasted aston they do not know what they are missing,,, You can skin this shell on the fly within 1 hour of your own taste,,, that's not to menstion how slik and low footprint it is,,,
tinkerdill reviewed v1.9.5 on Jul 3, 2007
You can download themes from internet, you don't have to pay anything about those! HELLO!
Stephen Bungert reviewed v1.9.5 on Jul 3, 2007
Man, is it ugly.

Just because something can be done, doesn't mean it should be done.
ahjefri reviewed v1.9.4 on Apr 2, 2007
Another nice version of Aston,,,
tannman1 reviewed v1.9.4 Beta 2 on Mar 15, 2007
Good shell however my start button now doesnt work but getting assistance in forum. Lots of themes to choose.
mikeyx11 reviewed v1.9.4 Beta 1 on Mar 7, 2007
@ Blackhole8746:

Bahahahaha. You are hilarious. Please continue to entertain us with your jokes...

Now for my review:

This worked fine for me however personally I don't like it, but it does what it says and does it fine.
Lurifax reviewed v1.9.4 Beta 1 on Mar 6, 2007
Blackhole8746, thanks for the laugh, you tool. Explorer gone? Oh nooooo! This wasn't supposed to happen! Oh...wait....