File Details

File Size
2.9 MB
License
Shareware, $19.95
Operating System
Windows (All)
Date Added
August 27, 2021
Total Downloads
15,411
Publisher
KC Softwares
Homepage
AudioGrail
Publisher's Description
AudioGrail is an automatic MP3 files renammer and tagger. It can automatically fetch tracks name from the internet thank to the power of the FreeDB online database.
This download is for the Lite installer. It does not contain any sponsor.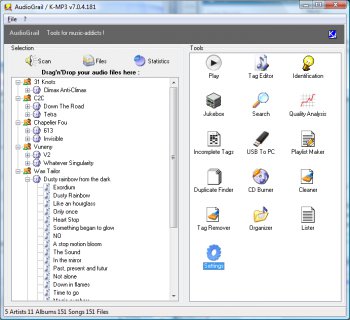 View Full-size
Latest Reviews
chrispaul reviewed v7.2.0.187 on Feb 17, 2014
awesome
lucianct reviewed v6.12.3.154 on Jun 20, 2008
why buy if you can get the same thing for free?
mharvey reviewed v6.6.2.118 on Aug 16, 2006
I love this program for organizing and tagging MP3s but the installer for this version (6.6.2.118) is corrupt. Go to the site and get the .RAR or .ZIP version instead.
tednor reviewed v6.5.0.110 Beta on Mar 9, 2006
This is handy and unobtrusive addition to my tagging arsenal. I too am very fond of the Musicbrainz initiative and have even tagged already tagged files just to add to it's database. However, MB software platforms have all been buggy and the focus on album information can be very irritating when tagging a single file. Audiograil tags batches of (I believe) 20 files at a time in the free version, and one can effortlessly inquire about a single file and have it tagged, renamed, and sorted in 3 or 4 steps. An album, even if incomplete in it's track content(!) can be referenced, tagged, renamed and moved with minimal effort. If they would add support for aac formats and incorporate TRM fingerprinting for those completely anonymous files we all seem to come across, it would be absolutely perfect. An excellent supplementary application and no risk involved! Trust me, I've followed it since it's debut and it has yet to do me wrong.
ckjnigel reviewed v6.5.0.110 Beta on Mar 9, 2006
"thank to the power of the FreeDB online database"
No thanks to FreeDB -- I typically waste more time fixing the screwed up info than if I'd filled in everything manually using data from Amazon CD sales.
palooka reviewed v6.5.0.107 Beta on Mar 8, 2006
We all like free software over commercial ones, don't we? ;)

MusicBrainz is a great free (open source) application, which *automatically* recognizes and tags all your MP3 files for you!

http://musicbrainz.org/
Neoprimal reviewed v6.0.4.39 Beta 5 on Apr 18, 2005
In all fairness, a good program - but still lacking alot. And...well, sorry but there are other truly free tools which do EVERYTHING and more and cost - nothing.
Kyle_Katarn reviewed v5.7.1.82 on Jun 28, 2004
[DEVELOPPER] There are 2 versions : K-MP3 "free",which is a pure freeware and K-MP3 "expert" which adds more tools and tech support and costs 15 euros
softssa reviewed v5.0.0.29 on Nov 13, 2003
Winamp5 offers allt the id3 tweaks you could possibly need and much more, plus the convenience of having a lowcpu usage and a very nice interface and so on......
The only advantage this program has got to winamp5 is the sad but true fact that winamp5 is more and more becoming a shareware like player with only limited options if you don't buy the pro version. However I will use K-MP3 because of its "freewareness".
Thank GOD for freeware, love them.
nookilatio reviewed v5.0.0.20 RC1 on Oct 25, 2003
Very convenient..
I really do like the concept of the program
What I don't like is the way it changes my id3 tags for an album to asian characters when using foobar.