Publisher's Description
AutoPatcher XP is an installation package designed to get your Windows XP system up to date quick and easily. This update package features a slick looking GUI and and can be customized to install as much or as little as you please.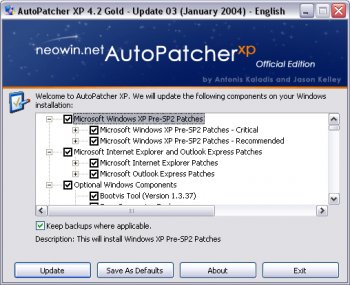 View Full-size
Latest Reviews
razzman1986 reviewed vAugust 2007 on Dec 25, 2007
I am also going to miss this program very much. This was one of the best tools out there and it was free! You would think that Microsoft would not complain about this program since it meant a lot less vunerable computers out their due to using their operating system. Sure some of the users are using bootleg copies...so what! I mean honestly, does Microsoft think that getting rid of "Autopatcher" is going to make a single one of those users go out and buy a legitimate copy of Windows? I can understand them not wanting those users being able to use Windows Media Player, but I doubt it matters much since it is so easy to find plenty of other free media players out there...some even better than WMP.
I find it very hard to try keeping up with all the patches I need to get, much less what I have already installed. That was one of the main reasons I used and recommended "Autopatcher"...it made the process almost fool-proof. Trying to keep everything patched by going through Microsoft's site is intimitading, especially for newer users, and easy to get overwhelmed so most just give up and don't bother. So Microsoft, I believe, has wasted an excellent resource to help all of the users of it's "buggy" Operating Systems to at least stay partially secure. It seems they are basically punishing all of their "legitimate" users and putting their personal data & information at risk just because of the "non-legitimate" users. With all of the Identity Theft and similar crimes on the uprise, why won't Microsoft let the "Autopatcher" developers continue to help their users?
Sincerely,
Chris
zridling reviewed vAugust 2007 on Aug 30, 2007
Once again, Microsoft, you suck. It was good while it lasted.
bourgeoisdude reviewed vAugust 2007 on Aug 30, 2007
Hmmmm...another hotfix was included with this version. Coincidence that MS shut them down now?

Just download the individual updates and install them. Find someone who has the original RTM of the network sp2 install (newer versions, e.g., SP2b, include stuff that prevents IE7 and WMP11 from installing, for example) and download the full .exe files for the rest.

Can't install WMP11 on your illegal XP license? Tough luck--that likely has to do with the shutdown order as well.

I DID like this program, but honestly I just used my personal collection of updates to install from my thumb drive anyway--it works for me.
view3dtv reviewed vAugust 2007 on Aug 30, 2007
well its no shock ms would want this stopped, perhaps the authors could sell this process back to ms :)
SwistaQ reviewed vAugust 2007 on Aug 30, 2007
M# Sucks.... I'm very, very mad :///
thewonderer reviewed vAugust 2007 on Aug 30, 2007
Brilliant app, but sadly M$ has sent the a letter to stop. Checkout there website. Looks like this will be the last one released :(
Latz ! reviewed vAugust 2007 on Aug 30, 2007
This is the very last version, enjoy.
horsecharles reviewed vAugust 2007 on Aug 30, 2007
GET ALL whilst thou can, MAMON--err MS is now trying to shut down individual mirrors....
RWW reviewed vAugust 2007 on Aug 29, 2007
Don't know what else to say....what a rotten move on Microsoft's part. Talk about paranoia.
rcglidden reviewed vAugust 2007 on Aug 29, 2007
No more Auto Patcher?

Now that's a "Genuine DIS-advantage"

I'm sure the problem is with the Microsoft genuine advantage crap. Auto Patcher allows you to update your Windows XP without genuine advantage (except for Internet Explorer 7 and media player 11) If you dont pass the genuine advantage validation on the Microsoft update page you cant get the latest updates from them.

Anyway... Do get it now! It's the closest we'll get to a service pack 3 until well into 2008.