File Details

File Size
653.3 MB
License
Subscription, $39.95
Operating System
Windows (All)
Date Added
May 6, 2022
Total Downloads
19,590
Publisher
AVAST Software s.r.o.
Homepage
Avast Antivirus
Other Versions
Publisher's Description
Avast Antivirus is an antivirus set that is able to detect the presence of viruses in computers. It has a powerful antivirus kernal that has a boot-time scan, improved resident protection, heuristic analysis for email, and a script blocker. The program works great as a on-demand and/or resident virus scanner. The skinable interface is easy to use for any user.
Avast Professional Edition is a complete ICSA certified antivirus package for small office, home office. It scans: On Demand - with two User Interfaces, On Access, E-mail, during Boot Time, in File Explorer and Screen Saver. It maintains Virus Chest. True incremental updates based on iAVS technology updates twice a week virus definition file and program itself.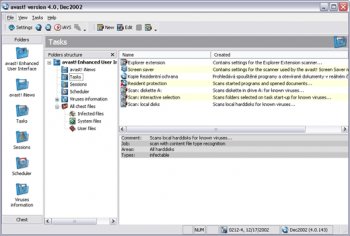 View Full-size
Latest Reviews
emilylauren2490 reviewed v2014 9.0.2000 Beta 1 on Jun 9, 2015
I was using Avast when it was one of the best antivirus available in the market. I abondoned it when it become down because of its impact on system performance. As far as I am concerned Comodo Windows 8 Antivirus seems to be the best one for my Windows PC.
https://antivirus.comodo...antivirus-for-windows-8/
jackdsami reviewed v2014 9.0.2000 Beta 1 on Aug 19, 2013
thanks man really good for all user you can know here more http://sgdownload.com
asaenz reviewed v6.0.1091 on Aug 15, 2011
I wanted to try Avast more thoroughly but it wouldn't install on my system ... some driver conflict I suppose ... I uninstalled 6 other programs to see if it would help but I kept getting a reset towards the finalization of the installation process so I gave up after a couple of hours. I did try it a bit in my VM and that is why I wanted to try it on my main system and I liked it. I was mainly interested in its sandboxing capabilities because I'm searching for an good alternative to Sandboxie, Bufferzone, and Comodo's sandbox. MSE is good for people that don't want to be involved in what is quarantined but I like to be involved in the decision and I think MSE removes the questionable item without asking you.
some guy reviewed v5.1.835 Beta on Dec 27, 2010
very good stuff, CyberDoc999 I use to use Avira but I think they went down hill, and switch to Avast free, But as far as I'm concerned the best one out on the market today is M.S.E http://www.microsoft.com/security_essentials/
CyberDoc999 reviewed v5.1.835 Beta on Dec 23, 2010
I have seen avast fail to block a virus
Avira blocked the same virus on another computer
dotnetnightmare reviewed v5.0.545 on Jun 9, 2010
This thing is Fast & Light on Resources! I have an Atom CPU & this is barely noticeable. I run games such as Halo & Left4Dead2 with no problems. I installed Malwarebytes before this as I was going to run without an antivirus software due to the fear of bottle necking my CPU. Malwarebytes was CPU Intense and noticable slowed my system! Avast has a good detection rate of spyware. People misuse the term Malware. Viruses, Spyware, Trojans & Rootkits are now Generalized as MALWARE. The detection rate & resource usage of this make it a top choice. A/V Comparatives thought so! I agree.
bokhylla reviewed v5.0.418 on Apr 3, 2010
Since version 5 Avast officially also uses heuristic technology (behavioral shield)!

Well I have been using Avast for nearly five years and it is the best.

It has a lot of features and a good detection rate and is the only antivirus that I really trust. Install Avast and your PC will be like a safe.

Bjorn Lundahl,
Gothenburg, Sweden
Joseph A reviewed v4.8.1351 on Oct 28, 2009
Avast 4.8 (both Pro and Free) is already at build 1356 since Sept. 29, 2009. And version 5.0 is presently at build 188 beta, already included in Fileforum on Oct 23, 2009.
madcats reviewed v4.8.1201 on Aug 22, 2009
5 out of 5 stars
madcats

Reviewing 5.0.70 Beta (Aug 22, 2009)

Get The latest Pro. Release Ver.# 4.8.1351 of Aug. 20\09 at Avast.com This one is out-of-date.. If you use the Home (Free) Version Get #4.8.1351 also of August 20 2009 and avoid the 5.0 Home Beta as it needs development. This is the only Version FileForum lists, so also download from Avast.com

I download alot and get many weird Emails; I have used both Avast Free & Pro. They have always guarded my machines for 5 years without problems.
bokhylla reviewed v4.8.1201 on May 12, 2009
"The best there is and now also equipped with heuristics"

Do not use Kaspersky, Norton, Nod 32, Bitdefender, AVG etc. use Avast and you will have a pc that is malware free and a program which is reliable and just works. The program has a lot of features which many other lacks, features which are essential in the fight against malware. I have been in contact with the company behind Avast named Alwil and they have informed me that since version 4.8 Avast is equipped with heuristics. They are planning to announce this together with other new features related to heuristics in the third quarter of 2009.

Avast is a protective fortress with all its shields and will protect your pc against viruses, spyware, adware, rootkits and other malware. I have used Avast for nearly four years in different computers and it always work reliably and have kept them free from viruses.

Avast has a lot of cool skins to choose from. It is not a dull anti-virus program like the rest.

Note: Equipped with heuristic means that the program has a capability to catch unknown viruses.

Björn Lundahl
Gothenburg, Sweden