File Details

File Size
156.0 MB
License
Freeware
Operating System
Windows 7/8/10/Vista/XP
Date Added
September 9, 2020
Total Downloads
180,841
Publisher
Avira GmbH
Homepage
Avira Free Antivirus
Publisher's Description
Avira Free Antivirus offers effective protection against computer viruses for the individual and private use on a single PC-workstation. It detects and removes viruses and includes an Internet-Update Wizard for easy updating. The built in resident Virus Guard serves to monitor file movements automatically, for example when downloading files from the Internet. Heuristic scanning protects Protection against previously unknown macro viruses.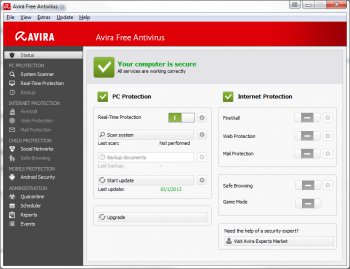 View Full-size
Latest Reviews
some guy reviewed v15.0.1908.1579 on Sep 6, 2019
for free it's umm ok at best it has become to bloated speed your pc up and a bunch of other crap
krgood reviewed v15.0.24.146 on Dec 13, 2016
I had Avira for a while. It slowed down my system, locked the hosts file, and started a scan on every start up that I was not able to stop or find out how to control it. When I uninstalled it, several portions of the program remain and refused to be installed. O was finally able to remove the registry items once I found the hidden modules. A reail PIA for me...
some guy reviewed v15.0.22.54 on Oct 14, 2016
I guess they don't read the feed back, BTdefender home free my top pic non bloat with a top 5 detection rate google the beta version or click this http://www.bitdefender.c...ions/free.html?target=1
guti reviewed v15.0.19.164 on Aug 31, 2016
Again forcing the user to install Avira Launcher.
guti reviewed v15.0.19.163 on Aug 20, 2016
Was the best, but now, with the Avira Launcher which cannot be uninstalled it is bloated. I have moved to Avast.
Steve1209 reviewed v15.0.19.163 on Aug 19, 2016
Betanews for Avira NEVER has the latest download when they post here, it's Many versions back, even though this is a GREAT software...
some guy reviewed v15.0.17.273 on Apr 19, 2016
has a good detection rate but way more complicated then needs to be, also way to bloated
johnusa reviewed v15.0.17.273 on Apr 19, 2016
Is this the new 2016 version?
15.0.17.273 does not make this clear.
I gave it 3 stars as its not clear and ambiguous.
Lsavagejt reviewed v15.0.13.202 on Sep 30, 2015
defaults to windows firewall. Kludgy settings.
CyberDoc999 reviewed v15.0.12.420 on Aug 27, 2015
you get what you pay for
see ESET