Publisher's Description
Avira Free Security for Mac is an all-in-one solution that blocks and removes threats, enables worry-free browsing, shopping and payment through real-time protection, and protects data with VPN encryption. Built using the latest Apple's Swift, SwiftUI and Combine frameworks alongside Avira protection technologies such as SAVAPI and APC. The app benefits from the latest technology stack to conserve system resources and maintain system speed while delivering best-in-class protection.
Features include a one-click Smart Scan that detects and blocks viruses, deletes unwanted cookies and junk that clogs the system, and flags any other issues with the device. As well as antivirus protection there's a VPN, a password manager and cleaners for cookies and system junk.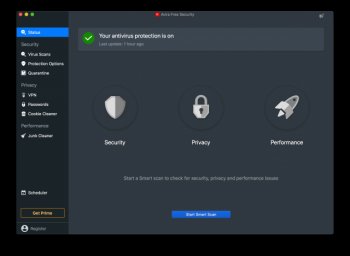 View Full-size
Latest Reviews
Be the first to write a review!
Someone reviewed v on Jul 5, 2022
Pros: 555
Cons: 555
Bottom Line: 555