File Details

File Size
2.3 MB
License
Freeware
Operating System
Windows 2000/9x/Server 2003/XP
Date Added
March 31, 2007
Total Downloads
11,670
Publisher
Ionut Cioflan (IOn)
Homepage
BORGChat
Publisher's Description
BORGChat is a complete chat for LAN. It includes nearly everything you need.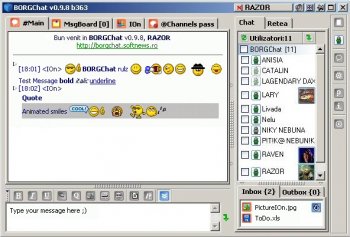 View Full-size
Latest Reviews
dhry reviewed v1.0.0 Build 438 on Jul 4, 2010
This would be BRILLIANT if it only allowed pasting of pics from the clipboard.
PostDeals reviewed v1.0.0 Build 438 on Apr 2, 2007
Very nice, just trying to find a FREE one for our orginization that does logging etc. I don't mind setting up a server and having people run off it or connect to it. Any recommendations? This isn't bad but didn't see the logging feature.
cip2kro reviewed v0.9.9 Build 431 on Apr 11, 2006
I am using this for 2 years already. Didn't crashed once, no bugs and great features. No other messenger for lan free or shareware can even compare with this..
Zygi reviewed v0.9.9 Build 423 Beta on Nov 2, 2005
Great communicator for lan :D
mreese reviewed v0.9.7 Build 353 on May 24, 2005
I had some problems getting to the authors web site several times. While this is a pain in the butt, the app is worth it. Lot's of features and functionality I didn't expect or didn't even think of putting in a LAN IM client. I think this is my first "5" because not only is it clean and stable, but its packed with features, and most importantly, it's FREE! Keep up the excellent work!
rx-182 reviewed v0.9.7 Build 353 on May 21, 2005
@BIL:

Just let the page load... at first it displays the blue box but thats just the top frame of the page.

Looks like their website is a little bit slow, but the rest of the page loads within 3secs here.

I'm giving it 5 stars due to your lack of patience :)
BIL reviewed v0.9.7 Build 353 on May 21, 2005
I tried both the product page and the Homepage and the only thing there was a box. No information and no icons to take you to a different page. I would not install something on my system that I could not get some info on prior to install.***update*** I was not impatient. I waited a long time. It simply was not working that day. It does now load. I guess they got the message.
DLX reviewed v0.9.7 Build 353 on May 21, 2005
Very, very nice. Best in its class that I've seen.

On the downside, user interface is somewhat cluttered. There are too many buttons and their icons are not that informative, even after I used it for some time, I had to check for hints.
BogdanSHA reviewed v0.9.7 Build 353 on May 21, 2005
The screenshot is outdated - the best intranet chat!
chasanc reviewed v0.6.0.210 on Aug 13, 2004
Very very very nice software. I say one word: "perfect". It deserves five stars.

I liked interface, fast chat send/receive, "share folder" idea, smiles and program speed.

Best software for lan chat.