File Details

File Size
3.3 MB
License
Freeware
Operating System
Windows (All)
Date Added
October 28, 2009
Total Downloads
9,345
Publisher
Bitwise Communications, LLC
Homepage
BitWise
Other Versions
Publisher's Description
BitWise isn't just "another IM", but has all the usual features plus many features unavailable in other IM programs, including automatic message encryption, direct-to-IP voice chat, a file transfer manager with file queueing and file sharing, a URL history, whiteboards, a grouped interface, skinning, buddy icons, extensive preferences and it's both small and fast.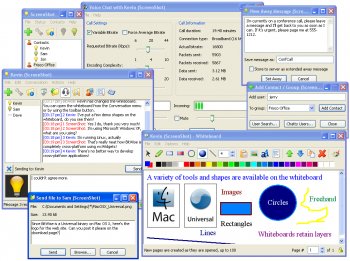 View Full-size
Latest Reviews
luckman212 reviewed v1.7.3 on Jun 29, 2007
This is a nicely-rounded IM program, I have found it is the only one that works cross-platform (Mac/PC/Linux) and thus we chose this for our corporate IM so as not to exclude Mac users. Also, it allows people who are working at home or out in the field to chat with people at the office which the other "business" LAN-based IM programs couldn't do, because this one is client-server based and not Peer-To-Peer (although I do think it falls back to P2P mode if it loses connectivity with the server). There are a few bugs and it crashes on occasion, which is why I rated it a 4 instead of 5. Hopefully there will be a rewrite at some point to address these, becuause development has halted in the past few years.
Xssshell reviewed v1.7.2 on May 6, 2007
Tried it years ago...a little more complicated than other messanger but I think it's worth the effort.

Make it a Miranda Plugin and I'll use it 24/7!
But no need for another messenger for me personally.
czekar reviewed v1.7.2 on Jun 19, 2006
This would be great software if it supported proxy connections to the internet.

Ah well. At least the screenshot isn't just the same picture in a bigger window!
Blue Joker reviewed v1.7.2 Beta 1 on May 18, 2006
Used it since first releases ,
I ever found it very good and I appreciate his development .
In my opinion , it has to spread up yet ,
it's used , or at least I do use it , with personal friends or co_workers , as a valid IM , whom you can rely absolutely .
The File Transfer is very fine and so other small features , which if not make it unique , sure make it a valid product and I can tell , a professional one.
Nikkie reviewed v1.7.1 on Apr 1, 2006
It's better than multi-network messengers .. it is its own network and does more than those other programs ... they should allow users to create plugins though .. this program is great but feels limited ..
darthbeads reviewed v1.7.1 Beta 1 on Feb 17, 2006
I guess I don't quite understand -- is this a multi-protocol IM client that can access MSN, AIM, Yahoo, etc?
bobad reviewed v1.7.1 Beta 1 on Feb 16, 2006
Great IM program. Simple, intuitive GUI, encryption, great reliability for file transfers. The program is compact and truly portable. Just drop it to your USB flash drive and take it along with you. "Feet to the Fire Radio" just adopted BitWise IM as their official IM. Check it out!

This may sound trifling, but the author actually knows how to post a usable screenshot on FileForum. He also cares enough about his users to post a change log. His care and professionalism are reflected in the program.
uberfly reviewed v1.7 Beta 2 on Dec 1, 2005
This is good software. Been using it for a while. As to why more don't use it - I think the company site does a bad job explaining how this program works under the surface, whether it's comptible in any way with existing IM networks... do you have to run your own server? etc. They just don't do a good job pointing past the interface. That is the kind of thing people who would be drawn to this program are interested in - the rest just go and download AIM.
EarlyMorningHours reviewed v1.7 Beta 2 on Nov 30, 2005
I am simply mystified that this program has not seen larger adoption. AIM, Yahoo, Microsoft, they could all learn a whole from this wonderful utility. It's small, fast, secure, and doesn't clutter the interface with a bunch of fluff. And now you can even run it off of a USB flash drive. What more could you want? Easily in the top 20 of my all time favorite freeware.
tp reviewed v1.0.6.5 Beta 2 on Nov 5, 2005
much improvement since i tried it years ago.. nice to see my username is still there too! ;-)