File Details

File Size
10.7 MB
License
Commercial Demo, $39.95
Operating System
Windows 7/8/Vista/XP
Date Added
July 18, 2018
Total Downloads
13,018
Publisher
BitDefender LLC
Homepage
Bitdefender Antivirus Plus
Publisher's Description
Bitdefender Antivirus Plus builds on of the best antivirus technology for Windows to silently stop e-threats, secure online transactions, and defend your privacy on social networks. Features include Bitdefender Safepay, MyBitdefender dashboard, Security Widget, Parental Control, USB Immunizer, Active Virus Control, Rescue Mode, Vulnerability Scanner, Bitdefender Autopilot, Social Network Protection, Search Advisor, Personal Data Filter, Antiphising, and Scan Dispatcher.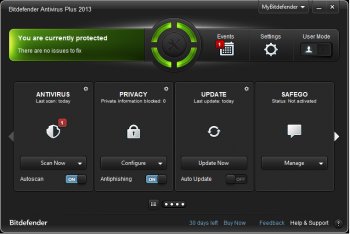 View Full-size
Latest Reviews
Sammo reviewed v2011 14.0.23.312 on Nov 5, 2010
Total piece of crap. Will not install correctly and blu screens every time. It doesn't like ANY other firewall and craps out every time. Stay away, just stay away.
trynow reviewed v9.0 on Oct 5, 2007
This program works fine in our country.
What does it mean? This program catches all of them. So your Windows XP Pro works fine. I tried the other versions. So don't wait take it and try it now. Try this Home version in your Xp Pro or Home XP but you need to unistall the other programs first of all.Why? The program must understand your windows alone.Then install the other programs that you use.Before this please defrag your C: D: or if you have E: hdd in your home Pc. If you defrag HDD you will see the speed of scanning and cleaning more powerfull.So you may save time and your PC too.Your connection to the internet will get more effective and you wont loose time and any bits.
Thanks
trynow hurry up dont miss...
h377r1d3r reviewed v8.0 on Jun 4, 2007
Briliant, really good.
stopbuggingme reviewed v8.0 on Aug 19, 2006
Great saved me from a virus NOD32 couldn't detect!!!
pwned32 reviewed v8.0 on Jul 15, 2006
great free app. use it ina addition to a resident antvirus app. only does what i want it to, doesnt try to do everyhting on its own. very nice and powerful tool
betasun reviewed v9.0 on Jul 13, 2006
very effective but in my system after every update the virus shield, real time protection, disappears and i must restart it manually .
lomniom reviewed v9.0 on May 20, 2006
I use bitdefender since version 8, pro version. Haven't touched any virus yet, or it might just me... =p

Great protection, but some improvements needed to be made for conflicts againts some MIRC scripts and also updates which disable the virus-protection for few seconds.

Firewall integrated is just above quality "mediocre",but here i will talk rather about anti-virus itself. Antispam can be configured to be more or less aggressive.

Client Service is quite OK, just have contacted once, via chat online. (A year ++ ago)

Unlike some other anti-virus, lisences are available for 2 years, effectively, making it looks more expensive in a first glance.

Worth trying, if u feeling enough of Kaspersky or NOD 32, the only other two (three) anti-virus i have tested so far.

Conclusion: If your computer is a super-machine, u can try GData AntiVirusKit, which combines both Bitdefender & Kaspersky motors. (Not a publicity)
wari reviewed v8.0 on Dec 30, 2005
In my opinion this is the best AV package (free or not) available. It is slim, fast, effective and not cluttered with useless features
analogue reviewed v8.0 on Nov 11, 2005
This is nag free, this is only a file scanner (no resident, no hidden driver, nothing, it only scans what you want to scan and does not slow down your system).

I recommand it to every techie.
And| reviewed v8.0 on Oct 31, 2005
I tried this piece of software. It worked quite good. It didnt find any virus, which can be either bad or good.

I just think an install package of 13mb is to much. Maybe thats just me.

A stable firewall (Sygate) and antispyware and suited me for over a year.