File Details

File Size
33.5 MB
License
Commercial Demo, $34.95
Operating System
Windows 2000/9x/Server 2003/Vista/XP
Date Added
December 7, 2005
Total Downloads
1,364
Publisher
Grey Dog Software
Homepage
Bowl Bound College Football
Publisher's Description
Bowl Bound College Football features six distinct college offenses and seven college defenses, customizable playbook that can include over 350 offensive and defensive plays, in-depth recruiting process and more.
Tired of your alma mater never getting to a bowl? Think a coach is past his prime? Or just tired of your team not getting the elite recruits? Then grab your playbook and prepare to challenge your football knowledge in Bowl Bound College Football. Critically acclaimed sports sim developer Arlie Rahn takes college football fans to the next level with professionally detailed game play, an in-depth recruiting process, an intuitive, streamlined interface, and the most thorough AI to meet sport management sims.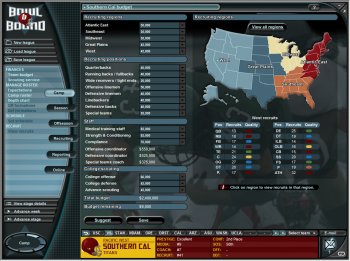 View Full-size
Latest Reviews
Be the first to write a review!