Publisher's Description
BPFTP Server is an FTP Server which has all RFC-959 features plus many other options, such as resuming upload / download, viewing server activity in real time, ban, kick, anti hammering, ratio, quota groups management, event manager, real time statistics generator, top 10 user, virtual directories, and Chat.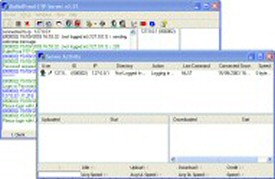 View Full-size
Latest Reviews
lakso reviewed v2017.2.0.30 on Jan 11, 2017
Really excellent software with continues improvements.
I bought my first license in 2004 and am still a happy customer.

Really good customer service and they deliver on their promises.
BPFTP reviewed v2014.1.0.17 on May 30, 2014
HI. I'm the developer.

Gosh, I'm not sure what to say about the haters. Sometimes customer-services goes haywire and you get people that just want to be pissed off. They feel the best recourse is to come to third party websites and make negative reviews. It's a big internet and a percentage is just going to go down like that.

In regards to legit concerns, please come to the website and send them to me. This is my job, my livelihood and (honestly) my life's work. At least so far. I get up, answer emails and bang away on the code for hours. Over the past 12 months, there's been 14 updates and I work hard to make sure that it works for everyone. Sometimes I make a mistake and it affects some tiny percentage of users in certain circumstance, but as soon as I know about it; BOOM! It's fixed.

I'd love to continue writing and working on the software. It's May 30th and I just released 2014.1.0.17. The next release (barring bug fixes) is a full rewrite of the engine for Secure FTP, user-authentication with other sources and REST API support for integration. It's going really well works, but takes a bit of time to hook back into everything in the UI.

G6 was a partnership that ran from 2001 to 2007, after that point it's a completely new codebase. I have no idea what's up with G6, they stopped selling their own product around 2007. He's a nice French guy that used to write it and I wish him luck in whatever he's doing.

Again, if you have a problem; please let me know on the product's website and give me a chance to correct it. If you're still pissed-off, go head and blast it everywhere. I can't help that and it's going to happen. For those people that are cool and level headed, let's go! Tell me what you like and don't, let's see what we can do!

BTW: I'm giving the software 5 stars, I hope you do too.
Qlib reviewed v2014.1.0.13 on Apr 20, 2014
actually:

----------------------
Nighted
Reviewing 2013.1.0.10 (Sep 10, 2013)

Anyone remember how great this was back in the day when it was G6 FTP Server?

Then the source code was sold to this moronic company. Not sure who took over BulletProof software, but it can't be the original creator from internets early dawn.

R.I.P. G6 FTP/BPFTP i
------------------------------

isnt completely accurate.. yes the sourcecode was sold as a fork, but the "real" gene6ftpserver still exists.. although it doesn't really seem to be updated much anymore...
BPFTP is decent but not as good as G6, still its a lot cheaper..
mikebratley reviewed v2014.1.0.12 on Mar 11, 2014
4 stars
Nighted reviewed v2013.1.0.10 on Sep 10, 2013
Anyone remember how great this was back in the day when it was G6 FTP Server?

Then the source code was sold to this moronic company. Not sure who took over BulletProof software, but it can't be the original creator from internets early dawn.

R.I.P. G6 FTP/BPFTP
cekicen reviewed v2011.1.0.70 on Aug 27, 2011
Bulletproof FTP server and client based on Filezilla FTP server and client, which are free. http://filezilla-project.org/
smchristie11 reviewed v2011.1.0.63 on Jun 14, 2011
I'm not sure why kashin, is hating on BPFTP so much.
I've been using it for the last decade and enjoy it a lot.
The competitors in its market price range are not any better, and those others still lack in some features BPFTP has had for a decade.
I love it as long as it runs.
I love that You can import the setting configs if you have to reinstall the OS or if you want to use it on another PC, just copy the installed directory files over and install on top of it.
kashin reviewed v2010.1.0.43 on Feb 10, 2010
Man, I remember when BPFTP Server used to be great. Now it's a disgusting piece of garbage, complete with gigantic ugly buttons and endless expanding menus. The guy who writes this rubbish actually made a comment on this forum to brag about how great his software is and how he's been writing it for over 10 years. You'd think that after 10 years of coding, he'd at least know how to alpha blend his gigantic buttons and come up with a decent configuration layout that doesn't make people want to vomit.
boulderdrop reviewed v2.4.0.31 Beta on Apr 22, 2008
There are no problems with BPFTP Server and files over 2 GB. I just emailed them about the problem, they said it was fixed a "while ago". In my testing just now with a 4 GB video file it worked perfectly in resuming.
markca reviewed v2.4.0.31 Beta on Jun 8, 2007
I just wanted to try to steer people clear of BulletProof. We purchased their BulletProof Server which is advertised as standards compliant.

Our clients were complaining of problems with downloads being corrupted. After 2 months trying to figure out what was wrong we discovered that the problem was with the BulletProof Server and larger files.

We contacted BulletProof and they indicated their 'fully standards compliant' FTP server didn't support files larger than 2.1GB

We asked for our money back all the way up to the owner of the company. He refused the refund even though it was only $39.

Surprising that a company would be unwilling to refund such a small amount of money when they have a huge, unadvertised flaw that corrupts data in transferred files.

Just wanted to let you know that you're really taking your chances if you use a BulletProof product.