File Details

File Size
0.9 MB
License
Shareware, $34.95
Operating System
Windows 2000/9x/Server 2003/XP
Date Added
May 28, 2010
Total Downloads
88,810
Publisher
Golden Hawk Technology
Homepage
CDRWIN
Publisher's Description
CDRWIN allows you to create almost any type of Data, Audio, Mixed-Mode, or Multi-session CD, giving you complete control over the disc layout and track spacing. Disc-at-once is perfect for creating masters that are ready for commercial replication, as well as many other more common uses for CD recordable technology. It also features track-at-once recording, ISO9660 disc mastering, as well as containing a powerful disc backup utility.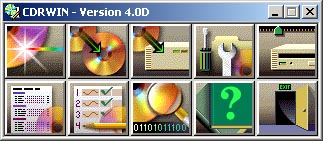 View Full-size
Latest Reviews
bonzobonzo reviewed v4.0H on Jan 20, 2011
Very nice program for burning CDs from cue files. UNFORTUNATELY for some time it does not seem to have been updated to cater for new burners AND e-mails sent to tech support (techsupport@goldenhawk.com) have started to bounce (Remote host said: 550 Mailbox unavailable).
ghammer reviewed v4.0H on Dec 4, 2010
Ah, the old days. Gee, if I had a Win95 machine, maybe I'd pay this price.

Windows 2000/2003/9x/XP / Shareware; $34.95
I used to be a CDRWin fan when CD writers were the new top notch technology. Unfortunately, CDRWin has not evolved quickly enough, has been overtaken by the competition years ago, and is now several laps behind. Today, any other competitive product will give you a better deal in terms of both price and features.
I give it a 2 purely by nostalgia and in recognition to the services rendered in the previous millenium.
echohead reviewed v4.0G on Mar 4, 2008
old as hell, but still works.
McAleck reviewed v4.0G on Mar 4, 2008
great, great stuff! always been! a big fat five
gehtnix reviewed v4.0G on Mar 4, 2008
no support for vista i don't care about.
BTW: it burns dvd

quota from gh.com:

What's new in versions 3.9?

* More than 1500 different CDROM and DVD recorder models are now supported. Please see Supported Devices for a complete list.

* Support for DVD-R, DVD-RW, DVD+R, and DVD+RW discs.

* Support for the UDF and UDF-Bridge filesystems.

* Multi-recorder support (record multiple discs at the same time).

i rate it 5 for being one of the most stable burning apps. could be beaten by imgburn in a few months...
raindrop reviewed v4.0G on Mar 4, 2008
It's year 2008 and no support for Windows Vista.
Chocobito reviewed v4.0G on Mar 3, 2008
We have in year 2008 and this apps need at last DVD support, the age of CDs its slowly passing away.
gehtnix reviewed v4.0F on Aug 23, 2007
Despite the discussion about stolen code and not really being updated (besides of blacklisting stolen keys / keymakers plus adding new devices) i recently bought a license...finally, after years of extended trial periods. Why? Because cdrwin never ever gave me a coaster since i used it from v.3.7 on my Mitsumi 4802 TE. Though i don't need the unique features like the karaoke thing i still rate the burning dinosaur 5.
Accused reviewed v4.0F on Jul 4, 2007
Ahhh.. Been using this for years and years and I still use it today for the majority of my burning tasks. It's simple, not bloated, cue sheet support ( which is a big bonus for me since I like my audio ripped into one file with a cue sheet to control track changes and also using cue sheets maintains the overall sound quality for all tracks since it is just one file), gapless audio recording, DAO, and all that other stuff in a tiny little package that is very fast and dependable. I have never had a problem with it at all and I will continue to use it as I can.