File Details

File Size
0.1 MB
License
Freeware
Operating System
Windows 2000/9x/Server 2003/XP
Date Added
November 11, 2013
Total Downloads
4,591
Publisher
Robert Vasicek
Homepage
Cathy
Publisher's Description
Cathy is a simple media cataloging tool. Files stored on removable media can be found quickly and easy. Duplicates can be found. Searching capabilities are based on file name, date, and size. Customizable date format. Found files can be opened or deleted directly.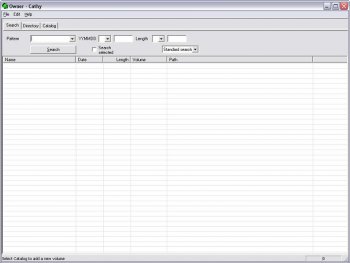 View Full-size
Latest Reviews
dejavu reviewed v2.31.2 on Aug 13, 2013
Thanks Robert Vasicek!
DKDude reviewed v2.28.3 on Nov 13, 2011
Nice tool, one of the best.
Darkman00 reviewed v2.25 on May 22, 2008
pretty good.. and it works :)

is there any other s/w that is simple to use and free .. - such as this one..
(to catalog CDs and DVDs with music albums mp3s in them etc)?
robreader reviewed v2.25 on Apr 10, 2007
Excellent little program, especially useful if you have a large collection of discs.
Allows you to quickly search your CD/DVDs, without having to wait for them to spin up in the drive.
Very easy to use, but you do need to download the help file from the authors site, to realise all the program features.
mert.nuhoglu reviewed v2.23 on Aug 21, 2006
This is very fast and useful application. The usability features are much higher than other disk cataloging softwares. A very nice feature is that it can produce a text file list of the scanned directories.
redfox reviewed v2.23 on Feb 11, 2006
Very fast & efficient. I have some trouble specifying some directories in the ignore list, though.
uranos227 reviewed v2.21 on Mar 14, 2005
Simple and very fast.
scott2096 reviewed v2.21 on Jan 24, 2005
I've found this a very handy program. Major benefit - it's quick & uses next to no resources. Good for cataloging - you can see easily if you've already got the one you're just about to download. Other catalogers have more features such as storing tags, but if you just want a searchable list of what you've already got, this does the job fine.

It looks no-frills, but it does what it is meant to do - catalog your files.
mliviua reviewed v2.20.6 on Nov 1, 2004
This is a joke, right?
emrldjetta reviewed v2.19 on Feb 24, 2003
Been using 2.18 for about five months and am very pleased with this program. Cathy is simple and intuitive and works as advertised. 'Nuf said.