File Details

File Size
5.4 MB
License
Freeware
Operating System
Windows (All)
Date Added
March 12, 2019
Total Downloads
5,121
Publisher
Cinta Software
Homepage
CintaNotes
Publisher's Description
CintaNotes is a simple and free portable note manager that can be used to store all kinds of text based information. Key features include the ability to capture text from almost any application, auto URL population for webpage captures, Ctrl+F12 quick capture hot key, note retreival simply by typing a word or phrase, exporting to Unicode Text and XML.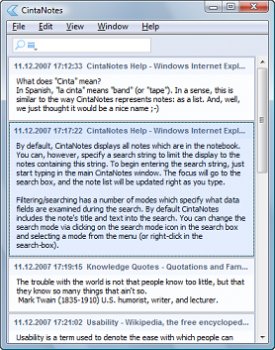 View Full-size
Latest Reviews
Chelsea F reviewed v2.9.3 on Sep 11, 2015
I absolutely love this software. It meets all my tagging needs and more.

It's clean and simple. I feel the designer is very in tune with the customers and their requests and suggestions. The other popular note apps are too bulky for my personal needs.

I also love that you can get a 10 day free trial to try it out and see if your needs are met. You should at least try out the 10 day trial. You may be very surprised at what you find.
uberfly reviewed v2.9.3 on Jul 28, 2015
Works great for my needs. Author of this app just gets it. I have come to really rely on it for my day-to-day workflow.
dhry reviewed v2.9.2 on Jul 16, 2015
Picked the full license version up for free from GiveawayOfTheDay a while ago. I wanted to use it with Simplenote syncing. Sure, it synced, but then it completely broke and duplicated my notes in SN about a hundred times each. Uninstalled completely. Useless for my purpose, maybe it's good as standalone but if I wanted that I'd just use a regular text editor and Dropbox.
avanos007 reviewed v2.8.3 on Dec 16, 2014
using CintaNotes for taking notes is comfortable.It is versatile , has understandable interface , easy to use.
Try CintaNotes to see the difference.
hyleafs reviewed v2.8.1 on Nov 1, 2014
-Great user interface.
-Fast
-Low memory usage.
-Helpful support

This goes way beyond those simple post-it notes on your desktop, managing a huge amount of information, that is easily accessible through its main interface, and using a tags system.

Just great, try it!
Happy long time CintaNotes user here (I have a licence for the Pro version). There is a lot I like about the program:
-Simple interface
-Tagging functionality (I prefer tags to find content over a non-tagged database and plain text searching, though tags are optional in CintaNotes and it does offer normal text searching as well)
-Program is updated often, and the developer listens to CintaNotes users.
-Stability (I don't think I have ever had the program crash on me once, which is good for data integrity)

There are some things I don't like:
-No file or image attachments, it is text only at the moment (this is a feature on the roadmap however)
-No encryption (again, this is something on the roadmap)
-This doesn't affect me now, but I mention it as it did affect me before I became a licence Pro user: The feature-set offered in the Free version is a bit odd compared to most other programs I am familiar with. The main one being that you can operate multiple databases in the Free version, but cannot access them via the File menu, as you can with virtually every other Windows program (unlocking the other databases section of the File menu is a Pro feature) - instead, you have to set multiple CintaNotes shortcuts to swap between databases.
-The licence price for a Pro licence is quite high for what the program is (a note taking software) - and it is a 12 monthly renewal as well

All in all, I do recommend CintaNotes though - I wouldn't have bought a Pro licence had I not been willing to do so.
HeilNizar reviewed v2.4 on Sep 19, 2013
@uberfly,
The author disabled that option for a while.

I'm glad he is listening to users.
Looking forward for the android version.
uberfly reviewed v2.4 on Sep 18, 2013
Simple and useable but with plenty of abilities if you need them. Perfect quick note app for shoving those random snips and notes. HeilNizar - there's a portable zip next to the installer. Something wrong with your eyes.
HeilNizar reviewed v2.2 on May 9, 2013
I thought it was improving, but now that they joined portable and installer into one setup, its going down hill.
karljapon reviewed v2.0 on Dec 29, 2012
From a quick view at the program it has a clean interface and has a good many features. New features are being added presently as the program continues to improve. Overall it is a powerful notes program and is very affordable - pro version, and has a nice set of shortcut keys