File Details

File Size
6.9 MB
License
Open Source
Operating System
Windows 7/8/10/Server 2008/Server 2012
Date Added
August 12, 2017
Total Downloads
34,493
Publisher
IvoSoft
Homepage
Classic Shell
Publisher's Description
Classic Shell is free software that improves your productivity, enhances the usability of Windows and empowers you to use the computer the way you like it. The main features are: Highly customizable start menu with multiple styles and skins; Quick access to recent, frequently-used, or pinned programs; Find programs, settings, files and documents; Start button for Windows 7, Windows 8, Windows 8.1 and Windows 10; Toolbar and status bar for Windows Explorer; and Caption and status bar for Internet Explorer.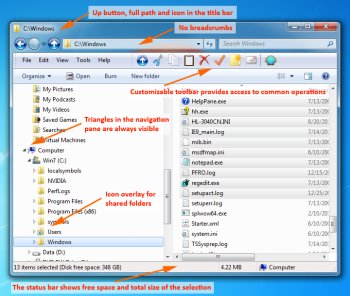 View Full-size
Latest Reviews
Sven123456789 reviewed v4.3.1 on Aug 15, 2017
Must use software for win 10 users
steviejay2002 reviewed v4.3.1 on Aug 15, 2017
StartIsBack is quicker and slicker
mchargue reviewed v4.2.7 Beta on May 24, 2016
ClassicShell is a great add-on for the (very lame) Win10 *cough* 'StartMenu'

It's far more usable.

Also, not to start a flame war, but ClassicShell is superior to StartIsBack. I've used both.
cyberguy reviewed v4.2.7 Beta on May 24, 2016
An excellent FREEWARE alternative. Works better than expected. haven't had a single problem with it.

@CyberDoc999
Rather than simply being a shill for "StartIsBack" you provide some reasons WHY it is better?

You do realize that this is more than just a start menu, right? And that you don't have to pay anything for it? Why downrate it simply because you prefer to pay for some other utility
Sven123456789 reviewed v4.2.5 on Dec 2, 2015
Works great on my (forced-accidental clean install version of win 10 on my sorely missed win 7) pc.
CyberDoc999 reviewed v4.2.5 on Nov 23, 2015
StartIsBack is better
Sven123456789 reviewed v4.2.4 on Oct 13, 2015
I noticed some bad reviews with earlier beta and rc versions of 4.2.4. So wasn't sure what to expect. I installed this newer version on a friends laptop with win 10 and spent a day with it. No problems were found on my end. Even restarted windows a couple times just to make sure of any bugs. Its good. The win 10 start menu isn't much better than the win 8/8.1 version. Why doesn't ms just include something like classic shell and give u the option of a win xp or win 7 or win 10 version of the start menu. And like allot of users, the metro interface just doesn't work for a pc. Even in this smaller version you find on windows 10.
cltx99 reviewed v4.2.4 on Aug 10, 2015
Simply very good. Using Win 10.
CyberDoc999 reviewed v4.2.3 RC on Aug 4, 2015
very buggy on windows 10 ... Lots of explorer crashes
I switched to "Start is Back" and all is well now
I love Classic Shell but I hate explorer crashes and shell crashes

Slug_Coordinator is right for windows 10
smaragdus reviewed v4.2.3 Beta on Jul 28, 2015
For me using Windows 8 without Classic Shell is impossible. Classic Shell is absolutely best utility of its class.