File Details

File Size
1.0 MB
License
Freeware
Operating System
Windows 2000/9x/Server 2003/XP
Date Added
January 31, 2007
Total Downloads
25,766
Publisher
RaZ
Homepage
Clean Messenger
Publisher's Description
Clean Messenger can mask all the elements of the interfaces of MSN Messenger (ads, buttons, etc.).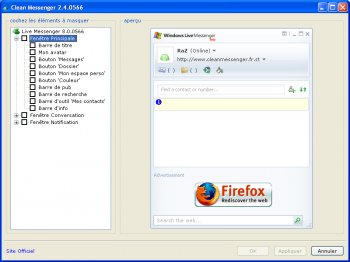 View Full-size
Latest Reviews
Mirrebex reviewed v2.7.0178 on Mar 20, 2007
Microsoft is evil..

It is the end

Microsoft contacted me so that I put a term at the development and the distribution of Clean Messenger.

Indeed, the modifications made to achievable of Windows Live Messenger would violate the royalties of Microsoft.

I thank all the people who sent malls of encouragements to me and more particularly those which sent a gift to me.

I can however give you a last easy way to continue to block the pubs of Windows Live Messenger very simply. It is enough for you to publish the C:\WINDOWS\system32\drivers\etc\hosts file and to add these two lines to it:

127.0.0.1 rad.msn.com
127.0.0.1 rad.live.com

It does not remain you any more that to start again Messenger and the pubs will have disappeared.
wognum reviewed v2.7.0168 on Jan 4, 2007
absolutely love the preview function! saves much time.
msn plus & cleanmessenger _O_
stisev reviewed v2.7.0106 on Nov 14, 2006
the artist & The_Zeroorez: both of you shut up.
the artist reviewed v2.7.0106 on Nov 14, 2006
IT'S MISSING THE POLYGAMY FUNCTION.

Holy Crap!!! the guy below suggested the A-Patch.
I went to the site, and everything was about Allah, Allah, Allah, and Muhammad, and stuff...
The Allah-Patch for Messenger, UBER PATHETIC!!!!!
That's what religions conceive these days!!!!!!!

"Holy" shhhh*t!!!!!!

@stisev: tell me why, loser.
The_Zeroorez reviewed v2.7.0106 on Nov 14, 2006
A multiple-language patch that does everything (and even more) can be found at http://www.apatch.tk

I like this one, though apatch is better.
Budgie29 reviewed v2.7.0106 on Nov 14, 2006
This is the best Messenger program I have ever used
very easy to use ,nice Graphical inferface and each
option is explained in pictures so thier is no
Need to RTFM execilant ********
bgronas reviewed v2.7.0106 on Nov 14, 2006
Really nice to see graphically what your checkmark button will change. Messpatch is always difficult when it comes to MSN messenger versions, but this one and A_patch are better tools for killing BS around messenger
pjb reviewed v2.7.0106 on Nov 13, 2006
Works really well.
DigiSyn reviewed v2.6.0792 on Jul 2, 2006
I'm giving it a 5 because it works great. My only issue is that Symantec AntiVirus Corp is (as of today) detecting "Trojan.Zlob" in this file. It may just be a screw up in the SAV definitions, but who knows. Anybody have any ideas? (Other than the typical "symantec sucks" crap.)
Blaxima reviewed v2.6.0792 on Jun 28, 2006
Does what it says but I prefer the MessPatch to this