File Details

File Size
4.6 MB
License
Freeware
Operating System
Windows 7/8/Vista/XP
Date Added
October 14, 2019
Total Downloads
20,194
Publisher
Marcus Kleinehagenbrock
Homepage
CloneSpy
Publisher's Description
CloneSpy can help you free up hard drive space by detecting and removing duplicate files. Duplicate files can have exactly the same contents regardless of their name, date, time and location. It is able to find files that are not exactly identical, but have the same filename. Perhaps you have different versions of a file and you want to find all of them and remove the older versions. It can also find zero length files, which are files that have no content.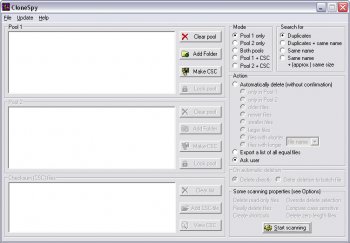 View Full-size
Latest Reviews
chrispaul reviewed v3.01 on Feb 17, 2014
excellent
DKDude reviewed v2.61 on Jun 29, 2011
Great tool, have used it for years.

Keep up the good work.
cassidy reviewed v2.33 on Nov 30, 2008
This program has no way to filter searches, which is a serious detriment if you have a lot of files.
Good program, but the duplicate detection engine needs some serious work. To check my sample of 232GB for duplicate files CloneSpy took 17minutes and read 53GB of data from the Harddisk.

Duplicate Cleaner v1.2 (also a free program) on the other hand also gets the job done within 7 minutes while reading 15,2GB of data. Since CloneSpy did not find any additional duplicates that Duplicate Cleaner v1.2 had not already found, CloneSpy's engine must have some efficiency drawbacks and probably needs a rewrite...
zridling reviewed v2.33 on Jul 18, 2008
Hard to argue with the results of CloneSpy. Works like a charm, and is faster than the rest.
d1910 reviewed v2.3 on Apr 13, 2008
No unicode support
zridling reviewed v2.3 on Dec 6, 2006
DoubleKiller is fine, but doesn't have nearly the accuracy and features that CloneSpy has.
notcho reviewed v2.21 on Jul 11, 2006
I would also suggest anyone looking for a duplicate files locator to try "DoubleKiller".
ahjefri reviewed v2.21 on Jul 1, 2006
Very nice program , but needs to have differenct setting as defaul, like by default it shoul list all duplicate in a list instead of 1 by 1 select,,

I will give it 5 for the choices for selecting the duplicate and replacing shortcut for the duplicate,,
zridling reviewed v2.21 on Jun 20, 2006
My experience was just the opposite of jamomea's: CloneSpy found what a half dozen other duplicate finders could not and did not take forever doing so. I even tried to trick it by renaming some of the files and it still flagged them as duplicates. CloneSpy is fast, easy, and accurate, which makes it well worth a donation.