File Details

File Size
11.0 MB
License
Freeware
Operating System
Windows 7/2000/Vista/XP
Date Added
September 18, 2015
Total Downloads
8,976
Publisher
cYo Soft
Homepage
ComicRack
Publisher's Description
ComicRack is an all in one solution to read your eComics and also manage your library. You can think of it as a kind of ITunes for eComics with lots of the same functionality. As a reader it supports all the state of the art features you can expect: different display modes, full screen, information overlays, magnifier, color adjustments, automatic backcolor matching and a multi tab interface to quickly switch between eComics. As a manager you can browse and search your eComics in the library, create folders and lists to organize them. You can customize the lists to show just the information you need and use advanced tools to tag and edit the information for your eComics. Or create Smart lists to display dynamic lists based on eComic info (never read, author, series etc.)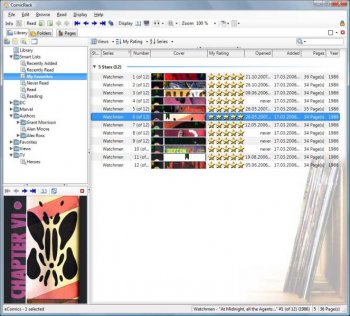 View Full-size
Latest Reviews
chrispaul reviewed v0.9.175 on Feb 17, 2014
very good
kiwi77 reviewed v0.9.156 on Oct 9, 2012
Have you tried YACReader?. I think it's a very good option as comic reader. YACReader has just released its new version (5.0) and it has a lot of interesting features. You can see the features in www.yacreader.com.
ShawnDevin reviewed v0.9.155 on May 21, 2012
the user interface is painful. Neatly organized folders of CBZ and CBR files are mixed together into a single folder of all files in my collection so that navigating within a series is incredibly painful. The interface is horribly slow. I stick with using http://fileforum.betanew...mic-Reader/1034322713/1 instead because its fast, lightweight, and lets me navigate easily to the next/previous cbz file in the manga series with a single keystroke.
Nighted reviewed v0.9.150 on Jan 5, 2012
Bloatware. Never could use this for more than 5 minutes. Absolutely horrible interface.

Get Gonvisor! *****
glacia reviewed v0.9.142 on Jun 4, 2011
I signed up just to review this because it was so disappointing after reading the glowing reviews. First and foremost this is NOT FREEWARE. That is blatant false advertising. Second it's an amateurishly written resource hog. As a software engineer from back when software engineers actually wrote software instead of the script kiddies of today I can say this is a steaming pile.Lastly, For a program that does one thing only this is a UI nightmare. The buttons and tools are literally everywhere as though the script kiddies threw darts to decide where things would go. I gave this a pity 2 stars because it could be fixed pretty easily. Tell you what guys give me half a day and I'll turn this into a slick lean mean piece of professional software that would be worth 'donating' to.
spikeoscar reviewed v0.9.140 on Apr 28, 2011
The Best program, spider-man comics view
8bitmorethan reviewed v0.9.134 on Jan 5, 2011
I agree with the reviewers here that indicate an interface too cluttered and resource heavy; I run a core2 3.5Ghz machine and it is STILL lagging (?!). @photonboy - have a look at http://www.cdisplayex.com/ it seems to be proper continuation project of CDisplay!
vviolex reviewed v0.9.111 on Mar 23, 2010
New version 0.9.118 of ComicRack is available. It lets you share your Comic Library over Internet and read WebComics inside program.
ron_marz reviewed v0.9.111 on Aug 20, 2009
Still requires .Net Framework. Also, I agree with the reviewer who called it "too cluttered."
photonboy reviewed v0.9.93 on Sep 29, 2008
I eventually quite using it entirely though I have hopes that it or another program will improve. The cluttered interface began to annoy me.

I couldn't get the latest version (0.9.95) to work in Vista. I tried to add a folder but nothing showed up.

I still love CDisplay; I doubt I'll replace it. I'm currently trying to find a good way to show thumbnails in Windows Explorer (thumbnail of the the 1st image). I added a comic tool in Ubuntu which added thumbnails to the equivalent of Windows Explorer but I couldn't find a Linux equivalent of CDisplay and I couldn't get WINE+CDisplay to function properly. I hope somebody ports CDisplay to Linux.

What I'd like to see:
-simpler layout
-Viewer with all the features of CDisplay (or option to open with CDisplay)
-Windows Explorer can display thumbnails (without building a separate index)
-rename/tagging of files that's really easy to use (possibly able to compare the cover JPG)

Summary:
Use CDisplay to view your comics. Try ComicRack and periodically Google for a similar program to provide Database and Thumbnail creation features. Perhaps look for a Thumbnail plugin for Windows Explorer. There's a growing demand for quality CBR/CBZ tools like these.