File Details

File Size
0.3 MB
License
Open Source
Operating System
Windows 2000/9x/Server 2003/XP
Date Added
June 1, 2008
Total Downloads
9,079
Publisher
DaanSystems
Homepage
CoolPlayer
Publisher's Description
CoolPlayer is an MPEG Layer 1, 2, and 3 digital audio player for Windows. It features skins, a simple user interface, and a fully working playlist editor. The built in ID3 editor makes it simple to rename and modify files. CoolPlayer uses the Xaudio MPEG engine and is completely free.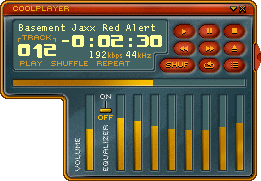 View Full-size
Latest Reviews
Perezoso reviewed vBuild 219 on Jun 2, 2008
Couldn't play MP3 or AAC audio streams. Then crashed within seconds of loading an MP3 file.
bobad reviewed vBuild 216 on Dec 2, 2006
Coolplayer used to be the best lightweight player out there. But that was then, this is now. Evilplayer and XM Player expose it as the bug-ridden piece of software that it is.
roj reviewed vBuild 216 on Dec 2, 2006
This used to be my player of choice too and then an overzealous but underachieving dev with no coherent strategy assumed control of the project and brought it to wrack and ruin. His hallmarks were a playlist best descriubed as a retroactive abortion and a quality control attitude typified b the mindset that "I code - I don't bother with testing; YOU the user community test whatever I grind out because that's YOUR contribution to the project".

In short, he was a putz.

Then, after all that rubbish, he *bailed* and the project went into the weeds.

I'm very glad to see this player resurrected. In it's absence XMPlay has become my player of choice at least in part because it embodies the qualityies that once made CoolPlayer great:

- superlative audio quality
- minimal fluff / maximum *useful* function
- a remarkable penchant for minimal bugs and good solid code

I hope that this new beginning for CoolPlayer after such a long hiatus will signal a worthwhile rebirth for this former gem.

THREE stas for hope and wishes of good luck in sorting out the mess.
ahjefri reviewed vBuild 216 on Dec 2, 2006
it's good to be back again,, but need a lot of work, to start with , retain of play list skin,
- Play list does not stay on top.
- It hangs and keep CPU busy ,

Cool Player used to be my fav. hope that it get back to me again,,

Keep the faith,,
bobad reviewed v2.09 on Feb 21, 2003
Fixed the crashing by restoring my system back before the Cool Player SNAFU. 2.06. 2.07, 2.08, and 2.09 all work normally now. "Normaly" is very well indeed!
roj reviewed v2.09 on Feb 21, 2003
CoolPlayer doesn't use the Registry other than for file associations. However, there are memory bugs that were fixed in the 2.09 release that produced crash symptoms. I've got it on six machines, all of different configurations (processors (AMD and intel), motherboards, video cards, sound cards) and have no crashes.
ahjefri reviewed vBuild 208 on Feb 21, 2003
very Nice.. I had no problem running it. I like it.. but still waiting for Playlist Skin.. ;)
bobad reviewed vBuild 208 on Feb 20, 2003
This build crashes in WinXP. Version 2.06 and earlier never once crash or showed any signs of instability. I went back to 2.06, and it crashes too now. It must have screwed up something in my registry. Cool Player has been my favorite for yearts. I hope the authors can get this problem resolved.
roj reviewed vBuild 208 on Feb 19, 2003
A couple of points:

CoolPlayer does NOT use Xaudio - it used MAD.

Also there are a few lingering bugs in the playlist code (minor stuff - the maximize and minimize gadgets don't work) but I am pleased to say that the dev team is very responsive and these will very likely be fixed in short order.

OGG support is excellent.

At this point I consider this player top dog for audio quality over both Winamp 2.8x + MAD and Foobar - with a lot more user friendliness than the latter.
mrbee reviewed vBuild 206 Sneak Peak on Aug 11, 2002
So close to being my player...but it fails me. The Equalizer is extremely flawed, not even mildly usable. I have also experienced random 'jumps' to other places in the sound file, just by doing something in another program! Weird. It looks promising though, hope it gets better without getting bloated.