File Details

File Size
173.8 MB
License
Shareware, $79.99
Operating System
Windows 7/Vista/XP
Date Added
September 28, 2011
Total Downloads
507,288
Publisher
Corel Corp.
Homepage
Corel WinDVD
Publisher's Description
Corel WinDVD is a popular DVD playback and Blu-ray 3D player software delivers a high-intensity, immersive home theater experience. Play Blu-ray 3D, AVCHD and all popular formats with high-definition precision and exhilarating surround sound. Plus, WinDVD 11 (Pro and Standard) uniquely includes a premium online movie search engine that finds your favorite movies at the lowest price from popular websites.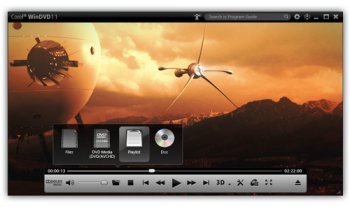 View Full-size
Latest Reviews
Uriel reviewed v11 on Mar 7, 2017
Very restrictive. DRM approved software. Avoid like a plague. Waste of money.
tylergierke reviewed v11 on Aug 23, 2013
solid!
Pieter Pieters reviewed v11 on Sep 29, 2011
Too big for what it only does
some guy reviewed v11 on Sep 28, 2011
crapware! tonamy freewares out their that do a better job
1.VLC
2 W.M.C
eMWu reviewed v11 on Sep 28, 2011
The thing is, there are only like 3 PC software players with full blu-ray support and none of them are free. I prefer TotalMedia Theatre 5 myself though.
Banquo reviewed v10.0.5.544 on Oct 10, 2010
Another dying industry. Windows can play DVDs natively now, there is no longer a need for programs like this any more than there's a need for the hardware DVD decoder cards that used to plug into a PCI slot.
aszure reviewed v10.0.5.544 on Oct 10, 2010
With all the other methods out there for playing a DVD, why would you resort to this? It does work. 3 stars for that. But between mpc, vlc, mplayer and wmp, why would you install this?
gawd21 reviewed v10.0.5.544 on Oct 10, 2010
Corel died about 10 years ago!
Mind blowingly bloatware.

Use MPC-HC, instead.
CyberDoc999 reviewed v10.0.5.544 on Oct 9, 2010
after trying both this and power dvd ....I would go with power dvd
sorry Corel