File Details

File Size
5.5 MB
License
Freeware
Operating System
Windows (All)
Date Added
May 30, 2023
Total Downloads
36,358
Publisher
Crystal Dew World
Homepage
CrystalDiskInfo
Publisher's Description
CrystalDiskInfo is a HDD health monitoring utility. It displays basic HDD information, monitors S.M.A.R.T. values and disk temperature.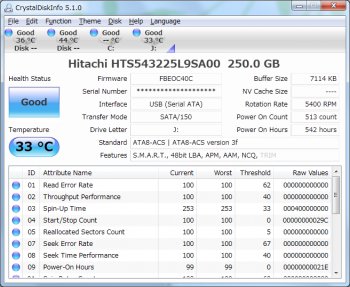 View Full-size
Latest Reviews
mtnsteve reviewed v7.0.3 on Aug 30, 2016
Works great! This was the first program that showed issues with my SSD's and one of the Insider builds I was using. I followed up with hm64 to confirm it ( the portable version).

Those of you that are worried about adware or toolbar's, use the portable version...NO ADWARE!

I have a folder on my C drive that I unzip all portable programs in, then pin the application to my start page or taskbar. I have never had a problem with adware, toolbar's, etc, with any of them.
CyberDoc999 reviewed v6.3.0 on Jan 1, 2015
look out for the adware
RxTech reviewed v6.1.8 on Feb 17, 2014
Tried this (and several other programs by same author). Defaluts to insisting it install a widget (??) to change your search engine; with no way to deselect that choice. Thanks, but no. Widget, toolbar, change my search engine all get a quick trip to the trash bin for that software.
chrispaul reviewed v6.1.8 on Feb 17, 2014
i like it
barrytbutler reviewed v6.1.1 on Jan 29, 2014
love this
yleclerc reviewed v4.6.2a on May 7, 2012
Very useful tool mainly for internal hard drives. Does not report the correct SMART infos for my external Western Digital 1TB drive. WD Diagnostic tools report this correctly and it is different!
boaz reviewed v4.6.0 on Apr 16, 2012
This is a useful program. good for checking the overall hard drive health.
mike59 reviewed v4.1.4 on Dec 5, 2011
Clueless War593122 again!
ROFL!

WTF does this mean?
"noob only started being used years have newbie."
Can anyone translate war593122's nonsense?

I hope English is not your first language! If it is, you must have dropped out of school (or kicked out) by first grade :D
Vimes reviewed v4.1.1 on Oct 11, 2011
Continues to work well with the drives that I have got. Helped also in showing a retailer, along with other diagnostic software, of the problems I was having with a Samsung HD and thus got refunded.
A useful part of a tool-kit which compliments others and can be invaluable if you think that you are having HD issues.
war593122 reviewed v3.9.4 on Dec 15, 2010
mike59, so what your saying is SMART is only way to get hard disk info?

No, your the newbie!!

noob only started being used years have newbie. So I guess that makes you the noob?