File Details

File Size
92.0 MB
License
Open Source
Operating System
Windows 7/8/10/Vista/XP
Date Added
April 1, 2022
Total Downloads
138,589
Publisher
Jacek Sieka
Homepage
DC++
Publisher's Description
DC++ is an open source project aimed at producing a file-sharing and chatting client using the ADC protocol. It also supports connecting to the Direct Connect network.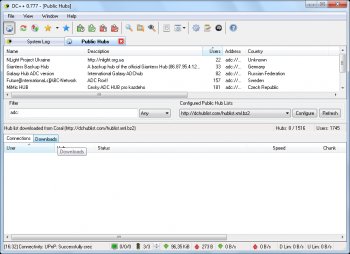 View Full-size
Latest Reviews
Picasso reviewed v0.866 on May 21, 2017
I can't believe people are still using this software!
paulperry reviewed v0.828 on Aug 24, 2013
dc++ rocks
FatBastard reviewed v0.802 on Oct 22, 2012
This program used to be good but nowadays it sucks :(
stephenstud reviewed v0.780 Experimental on Jan 11, 2011
This is a great program, but for some reason this one my ESET Smart Security did not like it. And threw it into quarantine......
smaragdus reviewed v0.770 on Jul 6, 2010
I totally agree with Fatbas****. The author of DC++ purged Sourge Forge from the older and better versions, but of course these can be found.
FatBastard reviewed v0.762 on May 17, 2010
The newer version of DC++ are bloated performance hogs.

Therefore I still use version 0.674
johnk119 reviewed v0.75 on Mar 11, 2009
a programs appearance is not all that's important... You cannot dumb down all the functions of a great program... I hate seeing reviews from people where the program receives a one!!!!! for just having an "ugly" interface.... this program looks just as good as others... if the interface works keep it... until some radical change in computing technology takes place, it'll probably be fine.
timmyyeah reviewed v0.706 on May 14, 2008
Thanx guys for fixing the up/download bars, missed them.
Keep up the good work!
DKDude reviewed v0.706 Beta on Apr 24, 2008
Yet another GREAT update, THANKS!!

Keep up the good work.

BTW. I *LOVE* the new generation of DC++, it downloads from multiple sources at the same time, GREAT addition.
osric reviewed v0.706 Beta on Apr 24, 2008
The public hubs may be full of crap; but this is a great application to use with a local hub for file sharing on a LAN.