File Details

File Size
7.7 MB
License
Shareware, $65.00
Operating System
Windows 2000/9x/Server 2003/XP
Date Added
May 6, 2015
Total Downloads
27,923
Publisher
xFX JumpStart
Homepage
DHTML Menu Builder
Publisher's Description
DHTML Menu Builder allows you to create pulldown menus for your Web pages, without writing a single line of code. No special plugins and no programming or HTML knowledge required, with just this program you will be able to create great looking professional pulldown menus for your Web site. Add images and special effects to the menus, and it will create menus that look and feel just like those fancy Microsoft Office menus.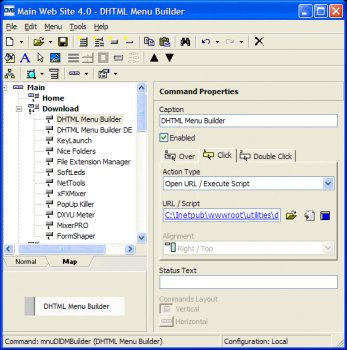 View Full-size
Latest Reviews
wgs reviewed v4.20.014 on May 20, 2008
I've used DHTML Menu Builder for over two years and I enjoy using it very much. When I got stuck the writer (Xavier Flix) responded so quickly to help me out, and more than once. I look forward to the next major release.
icqangels reviewed v4.1.000 Beta 3 on Feb 13, 2003
To quote a certain Brit "You got to raise the game, that performance was horific"
ssb reviewed v4.1.000 Beta on Feb 6, 2003
Quite good program but i know better and less expensive ones. DHTMLMenu from Sothink is a better one.
Orbit reviewed v3.5.0 Final Beta on May 16, 2002
Excuse the couple of versions behind review. I have to agree, this is rather overpriced and more complicated than it needs to be. I've used a nice little script from Dynamichtml... it's free, works in just about all browsers (haven't tried older opera), can be configured horizontal or vertical, submenus, colors, borders, IE transition effects... did I mention free?
Zmodem reviewed v3.5.0 Beta (5/13/02) on May 14, 2002
I used to use this program a lot. And it was one of the best/first of its kind.

However, there are many many other choices now. SoThink and AllWebMenus come to mind. Each are very cross-browser compatible, and cheaper than DMB.

dosveedanya DMB. Hello sothink :)
iax reviewed v3.2.012 on Nov 4, 2001
The software is average.. Crippleware of course, but doesn't work all that bad.

Vizact however.. What a joke.. I bought it last time i heard everyone here raving about it.. What a piece of crap.. Its IE centric JUNK. At least DMB tries to support other platforms. bah.
talonx71 reviewed v3.2.012 on Nov 4, 2001
Hey guys! In this version, you are able to upload files, publicly and privately chat with users, connect to as many hubs as you want on a single client, logon as an operator and have op commands and you can also change the personal settings. Next version, you will be able to search for and download files.
Jason Allen reviewed v3.2.012 on Nov 4, 2001
This program is really cool, makes changing various UI elements extremely easy. Much easier than manually editing the theme files with a resource hacker
spiked reviewed v3.0 Build 651 on Aug 6, 2001
Keeping compatible with a wide range of browser versions is holding this proggie back. It would be better if there were a compatibility mode where certain features were disabled, and then an advanced mode for IE5+ and NS6+ with more features.
iax reviewed v3.0 Build 651 on Aug 6, 2001
Jeez.. This is still crippleware.

I just bought vizact from the link on this page..