File Details

File Size
15.6 MB
License
Open Source
Operating System
Mac, Unix, Windows 2000/9x/Server 2003/XP
Date Added
June 4, 2015
Total Downloads
7,501
Publisher
Darik Horn
Homepage
Darik's Boot and Nuke
Publisher's Description
Darik's Boot and Nuke ("DBAN") is a self-contained boot floppy that wipes the hard disks of most computers. DBAN will automatically delete the contents of any hard disk that it can detect.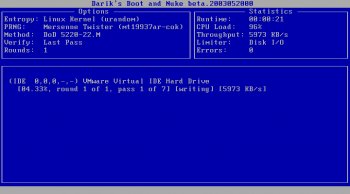 View Full-size
Latest Reviews
oldiron reviewed v2.2.6 Beta on Nov 22, 2010
Great product, it sure does a great lobotomy dissection to completely empty out a hard drive. However that is if you don't mind waiting and waiting. A one TB drive took 12 hrs 43 minuter to do it's thing. There must be something out there like the old Debug 'F 200 L1000 0' that can handle 64 bits.
Ideas anybody??
xsnred reviewed v2.2.6 Beta on May 25, 2010
I have used this when I changed out drives. Excellent program and nothing beats it except a sledge hammer. Gawd21, burn it on a CD for crap's sake.
Joco reviewed v2.2.6 Beta on May 25, 2010
gawd: Although the description said bootable floppy, DBAN can also be boot from CD or USB key. It is so small that it could be contained in a simple bootable floppy.

This program is a god send. No secure delete software can rival with this free tool to wipe the content of a hard disk.
gawd21 reviewed v2.2.6 Beta on May 25, 2010
Ummmmm, yeah, a great thing to have had about 9-10 years ago.

No one uses a floppy drive anymore.

EDIT: On second thought, great idea, and blessing. However, the description needs updated!
stisev reviewed v2007042900 Beta on Mar 15, 2008
If you need to wipe your drive, the is HANDS DOWN the most effective solution available.

No wonder the US Department of Energy Nuclear division uses it on its own hard drives.

For wiping "free unused space" use Eraser.
ModderXManiac reviewed v2007042900 Beta on Apr 30, 2007
Been using this for about 2.5 years now, works well with USB drives SATA drives, but I have had trouble getting it to whipe SCSI drives, otherwise, the gutman standard leaves my computers clean from the prying eyes...of even the FBI!
boaz reviewed v2007042900 Beta on Apr 30, 2007
Definitely one to keep in the repair kit. Great to do before doing clean OS installs. Brings the drive to zero, like a new bare drive.
mjm01010101 reviewed v2007041900 Beta on Apr 19, 2007
essential.

However this version couldn't detect the SCSI controller/drives that previous versions worked fine on. I will let author know.
Avion Airplane reviewed v1.0.7 Beta (2006051000) on Jan 27, 2007
Good program. It did what it says it does. Everyone should keep a copy in there tool kit
mjm01010101 reviewed v1.0.7 Beta (2006051000) on Aug 9, 2006
I love this program.