File Details

File Size
70.6 MB
License
Shareware, $9.99
Operating System
Windows 7/8
Date Added
October 22, 2015
Total Downloads
17,204
Publisher
Stardock Corp.
Homepage
DeskScapes
Publisher's Description
DeskScapes gives you the capability to animate and customize the wallpaper on your Windows desktop. Choose one of the animated wallpapers already included with DeskScapes, or use your own images WMV files to personalize your desktop.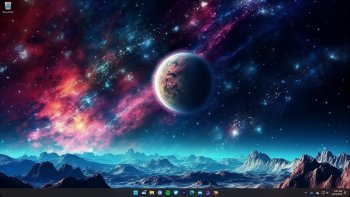 View Full-size
Latest Reviews
Obiwan-shenobi reviewed v3.25 on Nov 3, 2010
Not sure what the other posters are talking about. I have DeskScapes running on my laptop (nothing fancy) with no visible use of resources. From what I have read on their site it can also depend on the type of wallpaper you are using.

This is a cool app, I recommend it.
stevvie reviewed v3.25 on Oct 31, 2010
WOW what a resource hog. I don't have the fastest/newest PC (Q6600 running at 3Ghz with 4gig ram) but this thing slowed even my web browsing down NOTICEABLY.
auutumnsun reviewed v3.0 on Nov 12, 2009
What a waste of money and a resource hog.
mfaccone reviewed v3.0 on Nov 12, 2009
Why would anyone want this? Let alone pay for it?
deepisland reviewed v3.0 on Nov 12, 2009
Fantastic app! I was missing my animated wallpapers in Windows 7, and now I can have them back, plus some!
craigun reviewed v3.0 on Nov 12, 2009
It's a nice program if you have the horsepower to run it.
johngalt reviewed v2.50 on Feb 28, 2009
This *is* the paid version that works on all versions of Windows XP and Vista. The get the free deskscapes for Vista Ultimate go to http://www.stardock.com/...eskscapes/downloads.asp
Adrian79 reviewed v2.00 on Jul 29, 2008
OMG there charging now???!!

I guess i cant reformat, cuz i still have the free unlimited version!! too bad i didnt save the install file :-(
mmatheny reviewed v2.00 Preview on Apr 1, 2008
NOT FREE - as soon as you install it, it states you must upgrade to the pay version to get more deskscapes. I removed it, deleted the folder, and reinstalled the previous version (which had no such limitations) and now I also have the new deskscapes also.
dvferret reviewed v2.00 Preview on Mar 17, 2008
Very nice program, does not seem to use much power at all, and works great.