File Details

File Size
0.9 MB
License
Adware
Operating System
Windows 7/2000/Vista/XP
Date Added
June 2, 2014
Total Downloads
361,210
Publisher
SpeedBit Ltd.
Homepage
Download Accelerator Plus
Publisher's Description
Download Accelerator Plus (DAP)'s multi-channel technology empowers you to download videos, applications, photos and music files with a higher level of speed and efficiency. DAP 10's Video Downloader and Converter lets you download web videos from such sites as Facebook and DailyMotion and is not just the fastest and easiest to use, but it also supports more sites than any other Video Downloader. Instant Video Play lets you watch and listen to your content as you download and within seconds from starting to download. The new DAPsters Manager feature offers a one-click solution for downloading from hosting sites such as RapidShare and Hotfile. DAP 10 Link Checker validates the download link directly from the browser. The new DAP includes past favorite features such as the Automatic Mirroring Speed Boost that switches to mirror sites for a faster downloading experience. Your privacy and security are never compromised with DAP's innovative download security technology. Speedbit's Multi Anti-Virus (MAV) technology lets you receive notice of threats from the most popular anti-virus programs, helping you protect your computer from harmful viruses. Speedbit Video Accelerator seamlessly uses the cutting-edge acceleration technology to significantly cut down web videos loading time, reducing annoying buffering and pauses. Using Speedbit Video Accelerator you will watch videos on Facebook, DailyMotion and the hottest video sites smoothly, and it will also accelerate your iTunes downloads. With Speedbit's translation wiki and thanks to the help of Speedbit's millions of users worldwide, DAP was translated to 42 languages.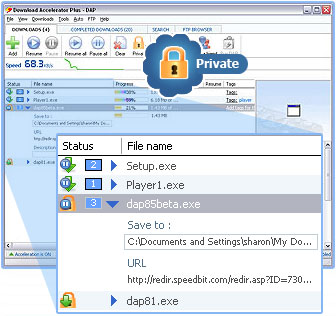 View Full-size
Latest Reviews
Ball Sacks reviewed v10.0.5.5 Beta on Nov 29, 2013
why in the hell would you need a program like this these days when every 1 has high speed internet? This software may have been useful when we all had dial up!
outofspace reviewed v10.0.2.4 Beta on May 16, 2012
Download Accelerator Plus is a classic crap software.
Kaft reviewed v10.0.0.6 Alpha on Oct 9, 2011
Download Accelerator Plus 10.0.0.7 Alpha (Oct 6, 2011)
ashtroth reviewed v9.7.0.2 Beta on Aug 5, 2011
i bought the premium dap and it is no faster than the free one it was a waste of money get the free one but do not buy the premium the download with premium are no faster than the downloads on the free version the premium is a ripoff
baki_princ reviewed v10.0.0.3 Alpha on Feb 5, 2011
I dotn understeadn whats the point besides JDownloader, why other downloaders even exist?
ZenoLabs reviewed v9.4.0.4 on Feb 21, 2010
Guys at SpeedBit, don't waste your time.
Jtaylor83 reviewed v9.4.0.3 Beta on Feb 17, 2010
Yes, it's adware and it's crapware. DownloadThemAll is much better than this.
This used to be a unique product many years ago. Now you can get something very similar and free called Orbit Downloader. You can dowload it in thefileforum if you desire.
CyberDoc999 reviewed v9.4.0.1 Beta on Feb 5, 2010
worst program ever !!!!
hedley reviewed v9.4.0.0 Beta on Jan 30, 2010
I was using IDM for 2 years. Switch to DAP fr few days. There is something wrong with this software. Using Opera browser and DAP well it's not working even with plugins from DAP. Switch back to IDM.