File Details

File Size
4.0 MB
License
Open Source
Operating System
Windows 2000/9x/Server 2003/XP
Date Added
February 4, 2008
Total Downloads
28,881
Publisher
DivX
Homepage
Dr. DivX
Publisher's Description
Dr. DivX is the first and only official DivX Encoding application. Just as DivX and DivX Pro have enabled anyone, anywhere to watch and distribute great looking digital video, this now makes the act of creating DivX video as easy as the act of watching it. It lets you create an awesome DivX video from almost any source right on your computer in just three easy steps.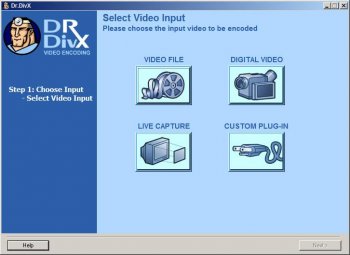 View Full-size
Latest Reviews
DudeBoyz reviewed v2.0.1 Beta 7 on Apr 18, 2008
Is there any way to use this interface with the Xvid codec, if for no other reason than comparison testing?

That said, it's the easiest way for me to get stuff into Divx, and I'm glad it's available, warts and all, and that it's free. May not be perfect, but at least it's out there.
2ears reviewed v2.0.1 Beta 7 on Feb 5, 2008
To Qlib :
For a few beta Dr. DivX is known to crash easily and it's a shame.
But if you google a bit, you will find out a known workaround.
Basically, the method is to convert your vob files to mpeg (using for example Nero software).
I knwo it is an extra step but it succed each time.
Hope it helps.
Qlib reviewed v2.0.1 Beta 6 on Jan 30, 2008
i tried the previous beta a while ago.. would just crash whenever i loaded any video into it.. this one crashes on startup and i did a clean install of windows 2 days ago..!! ok so its windows after all but geesh!

well.. it may be good but it remains in the s***e category until it will actually run!

.. I honestly prefer AVC.. esp with that dumb 4gb limit for divx on ps3 (not that AVC doesnt have it too im sure it does but the quality u can smash into 4gb is just better).. also PS3 may be officcially supported DivX but it doesnt have the "DivX Ultra" support for menus and such but maybe it will come someday.... unfortunately theres not a lot of good encoders for that (AVC that is).. at least not one that any non-sceners who cant do AVISynth scripts can use.... Nero Recode is decent but it crashes WAY too much esp if you try using 5.1 sound or multiple audiostreams and such.. just discovered AutoMKV.. someone told me it would do MP4 -AVC as well so guess ill give that a shot..
SteveJohnSteele reviewed v2.0.1 Beta 6 on Jan 18, 2008
yawn !

see below
SteveJohnSteele reviewed v2.0.1 Beta 5 on Dec 18, 2007
very slow and very disappointing development of this project

seems like years ago that the original Dr DivX project ended and the current Dr DivX 2 began

how difficult is it to ask a few questions and then pass those details to the codec ???
frodo888 reviewed v2.0.1 Beta 5 on Dec 18, 2007
This little application is not really a beta. It is more a pre-alpha version with a lot of bugs. The biggest problem is the terrible buggy UI and I think the developers don't use this program to create their own movies.

DivX has by far a better image quality than XivD, so don't hassle with the fuss from the user with the name "Registered". XviD may be free but it is simply inferior to DivX. I better do not mention the lack of 64Bit OS support from the so called XviD community.
Registered reviewed v2.0.1 Beta 5 on Dec 17, 2007
still many problems, and quite unreliable, and still has many stability problems,

it also has to be said that the developers really should get there fingure out, the developments stage on this software is going so slow, for what ever reason i don't know, but updates should be coming out far quicker then they are,

the DivX community are not offering much these days, DivX decided to go private with there software, but there speed of development is awful,

Xvid is finished and finalized, open source has many programs out there that support it, and it's all free, not to mention that DivX struggles to come close to Xvid quality (giving the speed Xvid works at)

2 points for the fact that this update was so needed, and they do keep trying i give them that.

but people, go with Xvid, it's better in nearly everything, and it's FREE!!!!
yokozuna reviewed v2.0.1 Beta 5 on Dec 17, 2007
This release of the program is fine except of one thing - it freezes some other programs when Dr. Divx runs in background. Good examples are KeePass or Wuala which cannot run together with Dr. Divx 2.01 beta 5.
DudeBoyz reviewed v2.0.1 Beta 4 on Jun 12, 2007
Works great. Very simple to use and very hard to screw up. Excellent for n00bs. :)

Still wish they had something this simple for xVid
darkpepe reviewed v2.0.1 Beta 3 on Feb 12, 2007
Still a hassle to use (specially audio), not even close to the easiness and output quality of AutoGK