File Details

File Size
2.3 MB
License
Shareware, $39.99
Operating System
Windows 2000/9x/Server 2003/XP
Date Added
July 5, 2003
Total Downloads
39,425
Publisher
DVD guru Inc.
Homepage
Dup-DVD
Publisher's Description
DUP-DVD is a powerful tool to backup a DVD movie to VCD or SVCD with just a click. Support DVD to VCD image, VCD image to CDRW. Supports all popular CD writers. Only need up to 2G hard disk space.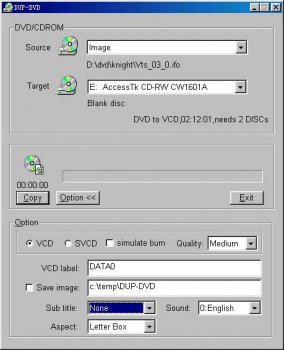 View Full-size
Latest Reviews
Hodgeman reviewed v2.3.0 on Nov 8, 2003
Just use EasyVCD http://www.eazyvcd.tk
Probably the best (simple) Ripper & Encoder I have ever found.
NOTE - You will need TMPENG to do the encoding, but the results a awesome, and there are just enough choices to make it a perfect DVD Backup solution.
robur reviewed v2.2.0a Updated on Jul 2, 2003
good show txnks m8
dinoquim reviewed v2.1.2 Updated on Feb 19, 2003
dup-dvd
fathernature3 reviewed v2.1.2 Updated on Nov 13, 2002
Works well but if you ever need support, forget it.
I have had to reinstall the program and I can no longer get a reg key file because I changed email providers and there is no way to correct an address to get the file sent to a new address. I have contacted support 3 times and no response. Once they get your money, You can forget about any help. The promise they give for customer service is simple lie.
KanadiaN reviewed v2.1.2 Updated on Nov 8, 2002
This would be a great program if it word!!! I have only been able to get it to make 1 disk out os the 2 it says it will for VCD. It has it problems running on XP systems. and they say they offer support for there product but I tryed to get some one day and it has been months... I would say that they need to rethink there goal and start to achive it...
Cirque reviewed v2.1.2 Updated on Nov 5, 2002
Tried it, had nothing but problems. Even with the shareware version to test it, have to rip the whole movie THEN wait while it encodes it all only to end up with a half hour sample. Why rip the whole thing if its only going to put out a half hour sample clip? Just ripping enough for that would make more sense. DVDx 2.0 works a hell of a lot better in my opnion and is 100% FREE with a lot more control.
ChAdWiCk reviewed v2.1.2 on Oct 27, 2002
nice idea, but the bin file it created was corrupt.
beedo reviewed v2.1.2 on Oct 27, 2002
I just tried making a test SVCD copy of A Bug's Life,
it took about 5 hours, on a duron 1 gig.
The quality was pretty good. and extremely simple. You can even choose the language (audios/subtitles).
Just leave the computer on overnight to do the ripping, the burning process is quite fast depending on your CD writer.
What uses to be a 5 step (5 difference programs) now it's only once click. Worth the download.
onetouch reviewed v2.1.2 on Oct 27, 2002
Sounds good, If I ever get it downloaded, I'll give it another review. Slowest server I've encountered in years.
Snooppy reviewed v2.1.0 on Apr 15, 2002
all in all a good program. The good points were that our of 4 backups 3 came out perfect. my guess is the others protection was different. I found the higher the vcd or svcd quality the better the movie. svcd was exactly like a dvd. The downsides were lenght of time and a few minor bugs. a high quality vcd took 20+ hours to make and a medium quality svcd took 30+hours on my P3 650.

Not a bad program at all if one has the time to rip the dvd. A definate no brainer for those of us who'd like not to go through all the steps. hats off to the author and i hope the program continues to get better.