File Details

File Size
1.6 MB
License
Shareware, $9.95
Operating System
Windows 2000/Server 2003/Vista/XP
Date Added
January 13, 2007
Total Downloads
10,311
Publisher
DynAdvance
Homepage
DynAdvance Notifier
Publisher's Description
DynAdvance Notifier is a program that notifies you when you have new Email on a variety of account types, including Gmail, Hotmail, MSN, Yahoo! Mail, POP3 or IMAP mail. It sits in your system tray and opens a pop-up window whenever you receive new e-mail. It also shows you a preview of the new message and automatically logs you in to your webmail account, or automatically launches your favorite email client.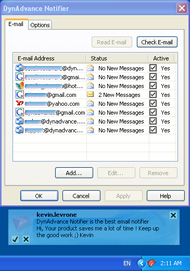 View Full-size
Latest Reviews
irv4oh reviewed v1.2.337 on Sep 25, 2007
Does not work, at least with Gmail accounts. Decent design though.
oomingmak reviewed v1.2.334 on Jan 9, 2007
This program completely trashed my firewall (leaving just the driver loaded) so I was left with no internet and no LAN access.

The problem was not fixed even after uninstalling it. I had to go through and fix manually file by file and then use another computer to connect direct to the net to dowload my firewall software so that I could re-install it from scratch.
darthbeads reviewed v1.1.244 on Jul 26, 2006
The Hotmail Plus and Live Mail support are much welcomed, and very well implemented. No problems thus far. A best multi-protocol tray email checker I have found.
jon8rfc reviewed v1.1.229 on May 18, 2006
I have been away from computers since September of 2005 and missed releases from that time--I am back now and this program still does what I want it to do, flawlessly! Great customer support as well.
darthbeads reviewed v1.1.228 on Apr 20, 2006
Still no Hotmail Plus OR Live Mail Beta support?! Virtually every other mail notifer I have tried supports these, even most IM clients! Sadly, DynAdvance had my favorite interface!
Bushwhacker reviewed v1.1.164 Beta on Oct 28, 2005
Still excellent software. I had the license key problem as well, but my reply only took 20 minutes!
I have no problems keeping track of my email accounts and the support has been second to none.
Neoprimal reviewed v1.1.159 Beta on Oct 25, 2005
OK...ack! I got the update and now my serial number no longer works. I'm hoping this is only temporary.
I STILL love the program!!!! LOL....and I'm going to recommend it to all my friends with multiple gmail/yahoo/msn/pop accounts.
It's REALLY handy.

P.S

I wrote to them about my key and in a few hours I got a new working key. Thanks! Can't stress enough how great this program is.
cstavaru reviewed v1.1.85 on Oct 22, 2005
Neoprimal, you don't have to worry about the program stealing your passwords. It is not our intention to harm users, but to offer a quality product that combines all the important features a user would need.

You can easily check with a firewall that the program does not connect, send or receive information from any server besides the email servers you specify in your account list.

Besides, what would one do with your email credentials anyway ?

Catalin Stavaru
DynAdvance Notifier's author
Neoprimal reviewed v1.1.85 on Oct 22, 2005
After trying to find a gmail multiple account notifier, I came across this. Tested it for 3 days and now I bought 2 licenses for me and the wifey. Awesome program, is all I can say. It checks all like, 15 of my email accounts spread out across hotmail/msn, gmail, yahoo and my pop accounts. Auto-login is SO handy....
My worst fear is that someone, somewhere now has my email passwords (after all, someone wrote the program, and whoever writes the program can get these passwords if they want to). But I guess time will tell on that aspect.
jon8rfc reviewed v1.1.85 on Aug 28, 2005
Working flawlessly and efficiently. I haven't yet encountered a program developer that is as helpful, responsive and concerned with their program as Catalin is with Dynadvance Notifier.

I'll think the program is finished or can't get any better, but Catalin always surprises me.