File Details

File Size
1.8 MB
License
Shareware, $19.00
Operating System
Windows 7/Server 2003/Vista/XP
Date Added
October 26, 2015
Total Downloads
9,619
Publisher
Noël Danjou
Homepage
DynSite
Publisher's Description
DynSite automatically updates your dynamic IP address each time it changes on one or many dynamic DNS services or by email. This allows anyone to connect to the servers (Web, FTP, NNTP, etc.) running on your own computer using a fully qualified domain name (e.g. myhost.dyndns.org, where myhost is a name of your choice). Since your host name never changes it makes accessing your servers much easier than using your IP address which changes each time you reconnect. This is also useful when you want to remotely control your PC.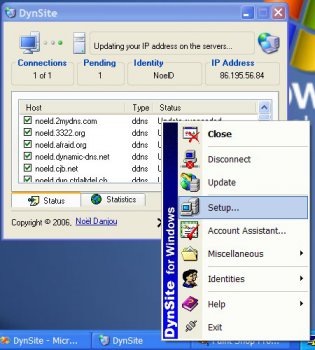 View Full-size
Latest Reviews
gigsvoo reviewed v1.11 Build 778.4 on Dec 21, 2004
The idea does not buys. Not practical at all. Nowadays hosting is cheap.
httpd.confused reviewed v1.11 Build 776.2 on Nov 15, 2004
I saw the review below, and thought, "Did I write that?" I didn't, of course, but I could have--because it's totally true.

DynSite burned me really bad when it forced updates and caused my dynamic DNS accounts to be locked. When I asked for help, I was ignored. Pass on this digital travesty for either a freebie, or DirectUpdate, which is quite nice, and better supported.
Sam_k reviewed v1.11 Build 768.4 on Aug 19, 2004
Terribly unreliable, and the author totally ignores support requests.
scodan reviewed v1.11 Build 735.2 on Oct 9, 2003
I was loving DynSite until one day when it suddenly forced an update on all 6 of my DNS names--for NO REASON--and they were all subsequently locked for "abuse". I couldn't uninstall it fast enough after that happened.
Cool-Gui reviewed v1.11 Beta Build 505.3 on Oct 19, 2001
You know.. that was supposed to be bit... I dunno where the "ch" came from... but maybe it was a Fruedian typo. :)
upnorthalicia reviewed v1.10.383.1 on Feb 2, 2001
I donno... I tried DynSite and it worked okay.... but then I tried DNS2Go and it was so easy! And it has so many neat features and useful configurations. And the DNS2Go Galaxy forums are a lot of fun... I just really liked this dynamic naming software a lot better. Simple yet full-featured... and FREE!
Rizla reviewed vBuild 1.10.270.5 on Aug 12, 2000
Good idea, but I always get an application error message, saying: The instruction at "0x00426502" referenced memory at "0x45ceb036". The memory could not be "written". :((
CDragon reviewed v1.09.266.4 on Aug 4, 2000
Using this since I got my cable modem way back in December 1999. Great program! Gets better and better and a wide variety of servers that it supports!
davisfactor reviewed v1.09 (Build 1.0.223.6) on Jun 12, 2000
I've been using this program for several months now also. It has worked perfectly for me every time I've installed it.
I'm running both NT Server 4 and 98 SE. This program rocks.
krazydog reviewed v1.09 (Build 1.0.223.6) on Jun 11, 2000
I've been using DynSite for a few months now. Every new version adds more handy features, most recently plugin modules for new dns services. DynSite is the best, especially if you use more than one dns service.