Publisher's Description
ESET Smart Security is a fully integrated security solution that includes antivirus, anti-spyware, a personal firewall and an antispam module. It features an improved graphical user interface with 2 operating modes for common and advanced users. The program uses a smart cleaning algorithm that automatizes the procedure of malware removal. Updates are delivered through very small incremental update files to ensure little traffic especially for dial-up users. The configuration can now be exported to xml files.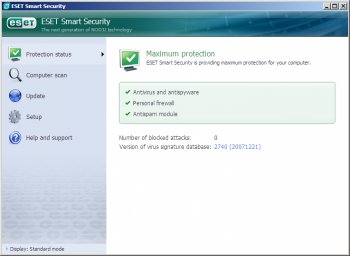 View Full-size
Latest Reviews
-Lord- reviewed v9.0.114.0 Beta on Jun 1, 2015
*** WARNING *** WARNING *** WARNING***

This DOES NOT work on Windows 10 builds 10122 and up. Disables network connectivity regardless of what you do. Getting connection back may involve uninstalling, reinstalling, then uninstalling this product again, as well as uninstalling and reinstalling drivers etc. If you're dumb enough to try this, MAKE SURE you create a usable restore point prior to installing this.
I've used Eset for years and I prefer it over any other AV software out there.... but this one's broken in a major way.

You have been warned.
Music4Ever reviewed v9.0.114.0 Beta on May 29, 2015
I like it, I've tried just about all AV's & like the small size & footprint of Eset - Best AV there is & no issues on Windows 7.

It's only an epic fail when SS & Windows 10 are final (doh)
JohnR3184 reviewed v9.0.114.0 Beta on May 29, 2015
You do realise this is a beta right? And Windows 10 Build 10122 is itself a beta also right? Right?
lilmegz reviewed v9.0.114.0 Beta on May 29, 2015
DOES NOT work on Windows 10 Build 10122+... EPIC FAILURE seeing as this beta JUST came out AFTER THE FACT that Win10 Build 10122 was just released not long ago
CyberDoc999 reviewed v8.0.301.0 on Feb 1, 2015
good app but nothing new from version 7 to 8 just a new number
outofspace reviewed v6.0.115.0 RC on Nov 17, 2012
Great product but with one bug,.
When downloading files with IDM Internet Downloading Manager, they are corrupted! There is no issues without Eset.
deric0 reviewed v6.0.115.0 RC on Jun 29, 2012
I've been using this version for a couple of months. The Anti Theft feature will be a useful tool in case of theft. Ive been using ESET for several years probably 10. Starting with NOD32 and now ESS x32 and x64 with 5 computers today, and have tried many other leading security solutions along the way to make sure ESET is in fact who I want to go with and the answer has always been, without a doubt yes.
In response to Music4Ever who states that the program leaves traces after uninstalling, while he's scanning with the program as he wrote it... how does he know this, and even if true (not) does he know that many programs leave data bits, has he tried CCleaner at all? And the link he posts has no mention about it.
5 stars all the way baby!
@Music4Ever --> to each his own, enjoy your music. And take everything with a grain of salt from those cracked posters on Wilders.
Indeed an interesting post. It's always been ESET.
Music4Ever reviewed v6.0.115.0 RC on Jun 29, 2012
Version 6 final a big improvement over previous Eset SS, issues with the Betas sorted.

If you do upgrade either from 5 or betas use the Eset uninstaller that's run in safe mode, removes just about everything & sorts any upgrade problems out.
trynow reviewed v4.2.22.0 Beta on Dec 24, 2009
Smart easy protection with your OS windows 7 and rest of them..But where is the family protection....
pjb reviewed v4.2.22.0 Beta on Dec 23, 2009
Seems to be heading in the right direction.
Not come across any issues using this version - been using it since this morning.