File Details

File Size
0.6 MB
License
Freeware
Operating System
Windows 2000/9x/Server 2003/XP
Date Added
July 12, 2009
Total Downloads
36,432
Publisher
Hakeem
Homepage
Evil Player
Publisher's Description
Evil Player is a fast, powerful and flexible media player for Windows. Some of the key features include Shoutcast, Icecast and Icecast2 support, low memory footprint and native support for several popular formats (MP3, MP2, MP1, OGG, AIFF and MOD).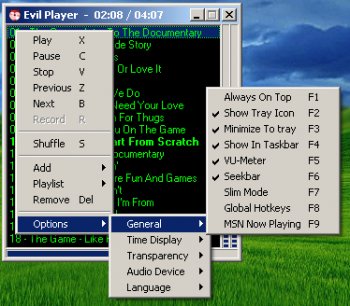 View Full-size
Latest Reviews
tovento reviewed v1.30 on Jun 30, 2009
Reasonable player. Basic in it's interface, but good for me, as I typically listen to music with the player minimized. Two caveats which I have found thus far which is making it a little difficult for me to switch from winamp:

1. While M3U files are supported, they need FULL path/filename structure to import files. Most M3Us are built with relative pathnames (and typically just list the files themselves, as the M3U is in the same directory as the file)

2. No option to clear the playlist when double clicking a file from windows explorer. Any file double clicked appends to the end of the playlist. I would prefer double clicking to clear the playlist, and add the selected files to the blank list.

I am comparing this to Winamp, and I am willing to give this player a shot. With the above issues, I have to give the player a 4 star rating.
Evil Hakeem reviewed v1.27 on Nov 22, 2008
@Galifray
Download the plugin pack from my website.. and enable the flac plugin.

http://www.hakeem.gigaho...ug-ins/Plug-in_Pack.rar
Galifray reviewed v1.26 on Sep 9, 2008
Despite the claim of the program's writer that EvilPlayer can play FLAC files, I have never been able to play them with any version of the program. Nor can I complain of this to the author as his forum uses a service that blocks all communication from the ISP range that my computer uses. In addition, the constant need to re-right click the window to access options is very annoying if I want to change multiple settings.
MuchMusic reviewed v1.25 on Sep 1, 2008
for me, evil player's RAM usage is always less than a 2 digit number
The Seeker 11 reviewed v1.25 on Aug 25, 2008
I use foobar2000 yet I have compared this with other lightweight players (1by1, Billy etc) and this uses by far the least amount of RAM. Perfect for someone looking for a no frills player.
MuchMusic reviewed v1.24 on Jul 18, 2008
Takes 2 times less RAM usage than windows media player 11, Recommended for music listeners gamers.
Mystenes reviewed v1.24 on Jun 16, 2008
Music player is for listnening music, not for having beautifull gui. If You need only a player, small and fast, this is for You.

It's small, easy to setup and fast player.
vincent326 reviewed v1.22 on Nov 12, 2007
Well I just donot know how your computer worked because musiccube works fun with my laptop and I never saw 130mb memory eaten by any program.
But Evil Player runs faster is a truth

I changed the theme to match the windowblinds theme Malice 2XG. Someone interested can find it our here
http://vincent326.devian...lice-2XG-Theme-71336221
tannenwheel reviewed v1.20 on Apr 23, 2007
you folks should consider the fact that the memory usage of a player depends on the database of musicfiles (and filetags).

that's if u add some files.

add some files and the slikest player (eg foobar) will use 40 mb or more (how much files do you have?)

lets assume we have 23000 files.

adding them to the database of foobar or musiccube takes an eternity, depending on disk speed.

adding them to evilplayer is faster.

(starting foobar or musicube with a given database is fairly fast, just as starting evilplayer with a playlist)

evilplayer now uses 15 MB ram.

foobar uses about 40 MB

musiccube now uses 130 mb and still only 50% files have been added and i am not wating 30 minutes till that monster is done eating my ram
ctrl alt del on this one. i know that may have led me to predjudice but that could not change my point much.

i use foobar and when i want to save resources i use 1by1 player.

if u added all your files to evilplayer you would want to navigate with the search feature. but activating search just doubles the memory usage of evilplayer. now it is 30 mb. not good. (memory usage it is changing all the time). and the search is verry unresponsive.

so 1by1 allows for descent navigation (given a structured filesystem) without memory use worth mentioning.
porterboy55 reviewed v1.18 on Jan 14, 2007
this program uses less resources compaired to the bigger media players i.e. itunes wmp and even winamp

however it uses WAY more then the 2.5meg of ram that musikcube http://www.musikcube.com/ uses

second it is flat out ugly musikcube has a beautiful gui and it very easy to use no to mention it is really fast check it out

use it help develop it its the best