File Details

File Size
4.5 MB
License
Open Source
Operating System
Windows 2000/9x/Server 2003/XP
Date Added
January 6, 2013
Total Downloads
282,398
Publisher
ffdshow
Homepage
FFDShow
Publisher's Description
FFDShow is a DirectShow decoding filter for decompressing DIVX movies, picture postprocessing, and show subtitles. It uses libavcodec from ffmpeg project or for video decompression (it can use xvid.dll installed with xvid codec too), postprocessing code from mplayer to enhance visual quality of low bitrate movies, and is based on original DirectShow filter from XviD, which is GPL'ed educational implementation of MPEG4 encoder.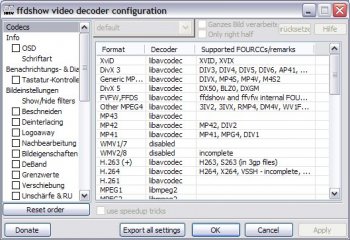 View Full-size
Latest Reviews
wodez reviewed v1.0.3721 Beta on Apr 8, 2012
Why do you need a codec pack when you got FFDShow? There is no reason for it unless you need to play some really obscure formats
Phat Esther reviewed v1.0.3721 Beta on Jan 28, 2011
Some codec not working at all eg AVC1 or just result black screen.
I recommend identify every new codec and download officially place instead of universal but not professional project. FFDSHOW is the poor men codec pack.
All codec pack unnesesary. Not recommend at all. Wasted time. All modern player has built in codecs, if not, dont use.

@roj @aking80 you have very big mistake, as drink tell the ffdshow is the part of k-lite mega codec pack and not individually project, just a little piece of that. Not more, not else, not independent just same project. Must informating before writing something please.
roj reviewed v1.0.3721 Beta on Jan 27, 2011
Codec packs are poser crap. Bloated, finicky, high maitainance. This solution rocks. I finally went to it recently after years of codec Russian Roulette and I've got to say that if you go with codec packs, you have to either be uninformed or crazy.

FIVE stars - SIX if they gave them out.
Artem S. Tashkinov reviewed v20081219 rev2527 Beta 6 on Dec 23, 2008
Official download link: http://downloads.sourcef...a6_rev2527_20081219.exe

Official announcement:
Beta 6 adds support for E-AC3, DTS-HD, Dolby TrueHD and MLP decoding. This release also features a new deinterlacer called Yadif as well as various improvements to volume normalization and H.264 playback.
Among the usual slew of bugfixes stands out one important security fix: Updating is strongly recommended!

Changelog:
http://ffdshow-tryout.sourceforge.net/changelog.php
aking80 reviewed v20081114 rev2322 on Nov 15, 2008
@dink: Because most the stuff codec packs use are unnecessary and installs a bunch of crap.

Anyways, ffdshow, CoreAVC, and directvobsub is all I need. Can play anything I throw at it.
dink reviewed v20081114 rev2322 on Nov 15, 2008
Why wouldn't one just use K-Lite Mega Codec Pack??
It has ffdshow built-in.
khagaroth reviewed v20081114 rev2322 on Nov 15, 2008
Unless you use some of the more demanding postprocessing filters, there is no need for you to use the SSE version. The decoding part is already manually optimized and does not get any speed improvements with SSE compile.

Just a note for BetaNews, this is not the original ffdshow, this is a separate fork of the original (its name is ffdshow tryouts), started by some developers on the doom9 forums, anyway, I'm glad someone took over the development after Milan (the original author) disappeared.
us3r reviewed v20081114 rev2322 on Nov 15, 2008
Meh... I will wait for the SSE build.
Artem S. Tashkinov reviewed v20081114 rev2322 on Nov 14, 2008
I second anarkhy'a opinion.
anarkhy reviewed v20080612 rev2000 on Oct 21, 2008
No need to have thousands of buggy codecs installed, just this one and media player classic play all my videos flawlessly. Great tool.